This is where your creativity and desires are displayed, either via stamping/tooling or laser engraving, physical additions, and color. Examples of past tooling/stamping or laser engraving include:
Chief's Anchor
Coast Guard Shield
Ratings Badges
Rope or Wave Border
Special Pins (e.g., cutterman or coxswain pins)
Rose Compass
Special Pictures (from tatoos or postings)
Name with or without Date of Promotion
Coast Guard Core Values
CCTI Theme
Coast Guard Motto
Smaller Stamp Impression of the Coast Guard Shield
It is also possible to add decorations via hardware. Examples have included:
Brass or Nickel Boat Cleat Handle
Conchos (see picture at the right and closure mechanisms for the Coat Guard and nautical themed conchos)
Actual Uniform Pins/badges
Leather Rosettes (see picture at right for examples)
FYI: The Leather Rosettes also make great key fobs!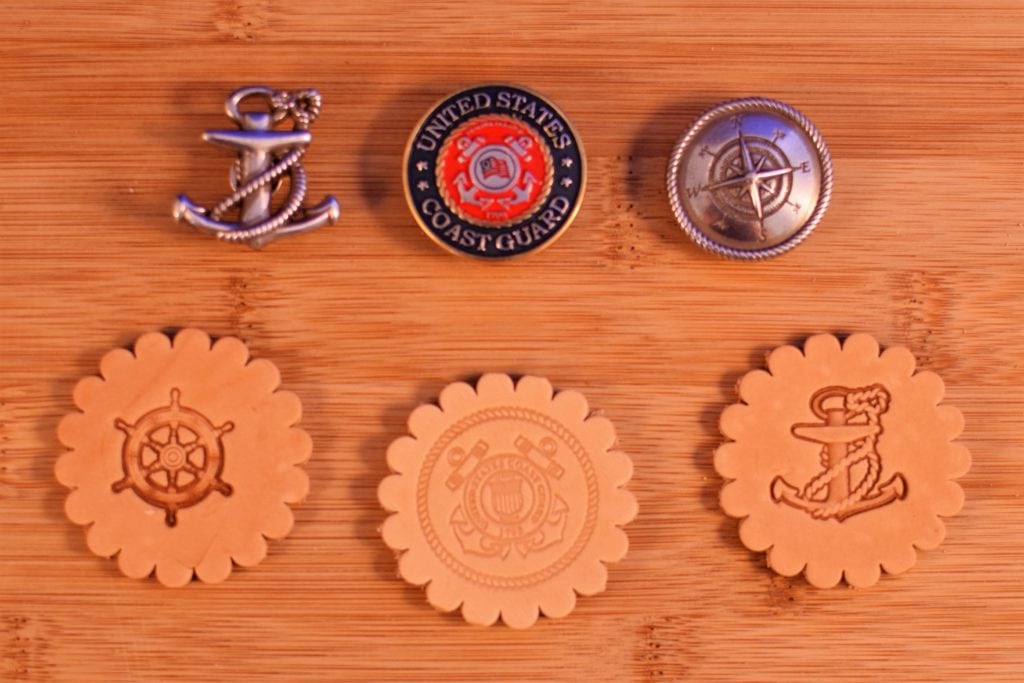 Color … the final frontier!
This is another spot where you can express your individuality. Between dyes and acrylic paints, I can do about any color.
Background color (or single color):  Typically, this is a medium or dark brown.
Accent colors:  Here we are moving into a multi-color Charge Book (and an additional cost due to the time involved). This typically involves gold and silver on the Chief's Anchor, red and blue on the Coast Guard shield, gold on the rope border etc.