For the Charge Books with a flap, a closure mechanism is necessary to attach the straps to the main body of the Charge Book. The most popular closure mechanism has been the hook and latch hardware pictured to the right. As seen they come in an antique brass and pewter finish.
Unfortunately, my supplier of these mechanisms has stopped carrying them, and I have been unable to find an alternate supplier. I still have a few of the pewter finish, but they will soon be gone.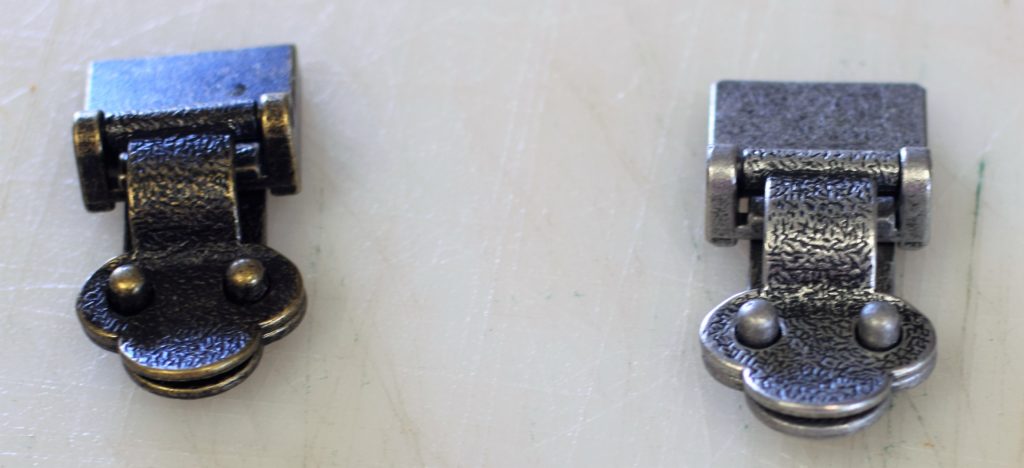 Hook and Latch Mechanism (antique brass finish is unavailable, antique pewter soon to be unavailable)
There are other options!
Options include:
Basic snaps, come in nickel, brass, black and copper finishes;
Snaps with concho toppers. The same functionality as a snap, but with more style.;There's a wide variety of conchos available, but the first picture at the right show the Coast Guard and nautical-themed conchos available;
Next would be the Sam Brown Button studs, nickel or brass finishes (second picture at the right). The button stud is attached to the body of the Charge Book and the straps have button holes that slide down over the stud.
Fourth option would the Loxx Fasteners. The top pops over a post in the bottom and forms a very secure connection. The one drawback is that they do stick up a bit. Come in nickel, antique brass, and copper finishes.
Fifth, is the swing hook, only available in the antique brass finish shown in the picture. The receiving half is riveted to the body and the swinging latch is riveted to the strap.
Finally, it is possible to use buckles, but they eat up real estate on the front cover (no picture).