Art Work
This page shows additional possibilities that leather presents for decorating a house or office.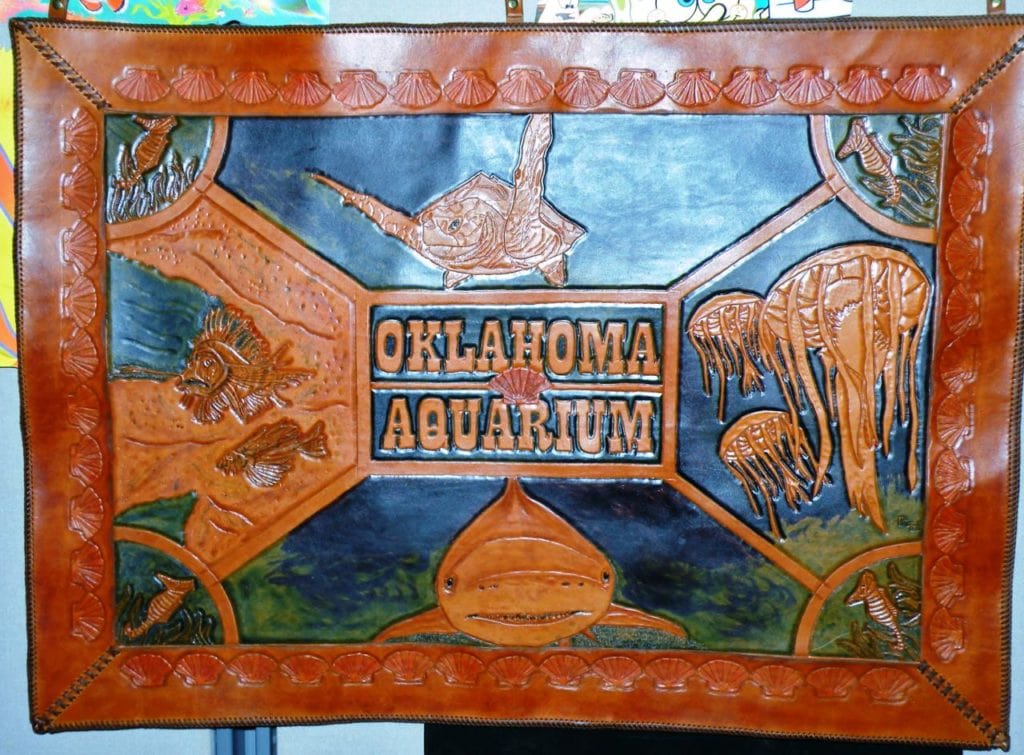 OKLAHOMA AQUARIUM MURAL
This is one of several pieces made for the Oklahoma Aquarium (www.okaquarium.org) in Jenks, Oklahoma.
SEA TURTLE
Another piece made for the Oklahoma Aquarium, this picture celebrates the two sea turtles that the Aquarium has.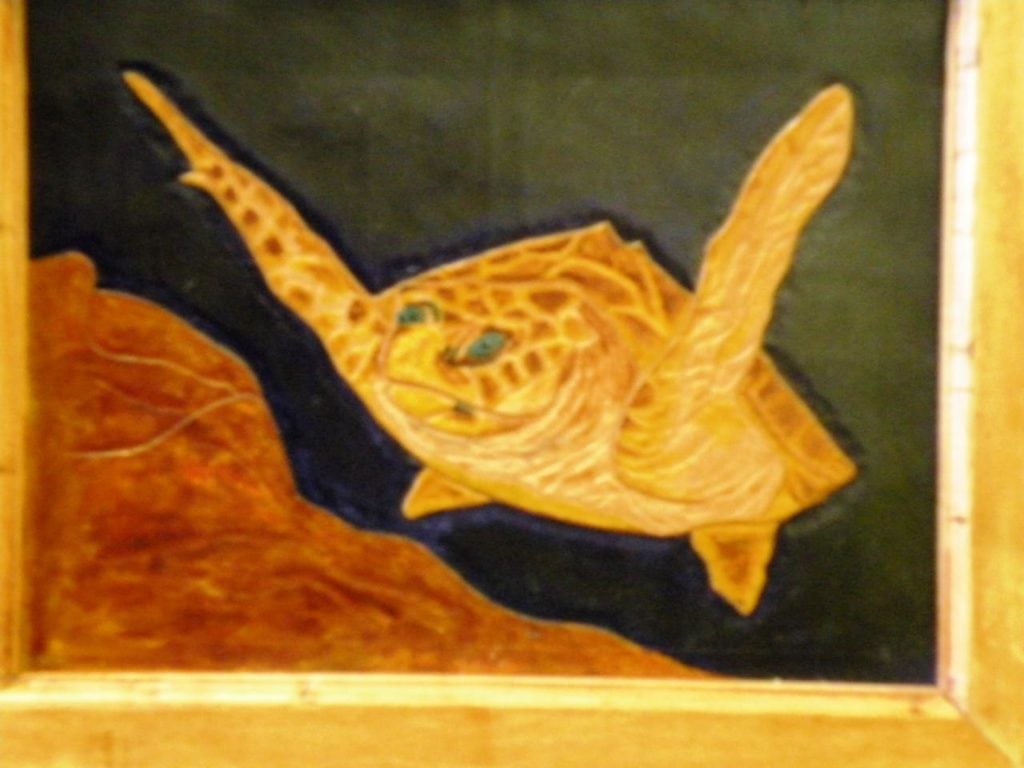 THE LOMBARDI GAUNTLET
This bad boy is 24″ tall and 25.5″ around. Made forMarvel and Patriots fan, it will be used as a prop in comedy shows on military bases. Inspired by the Infinity Gauntlet from "Avengers: Infinity War," the Lombardi Gauntlet is built on a full length welders glove and holds the Patriot's six Super Bowl rings.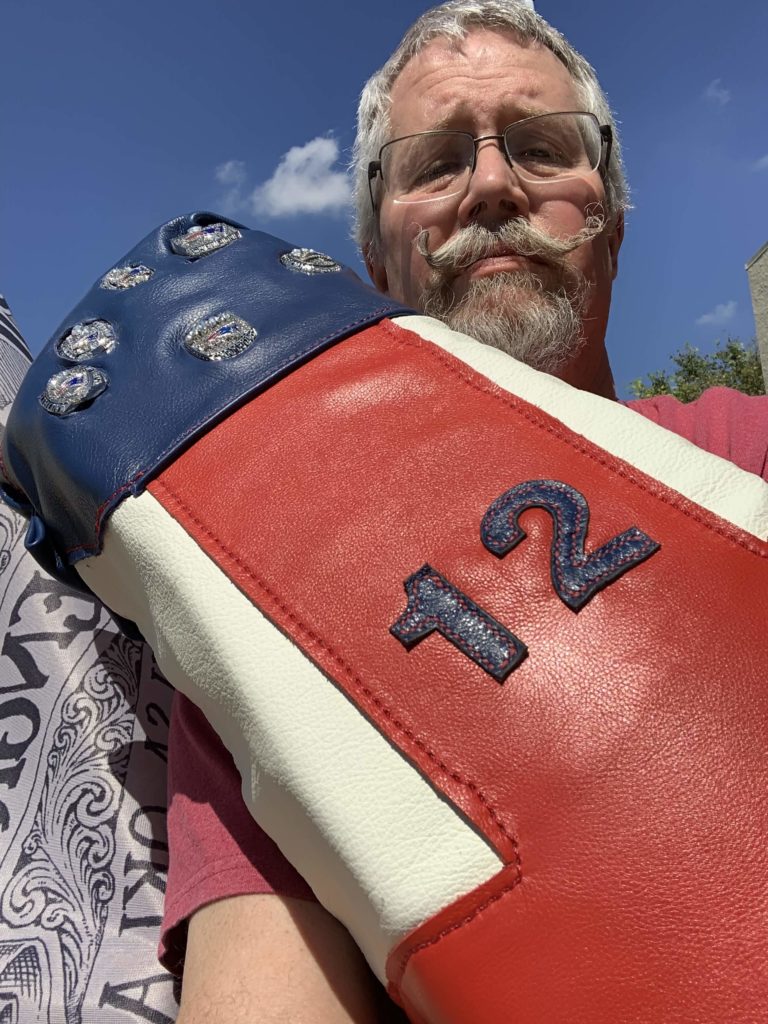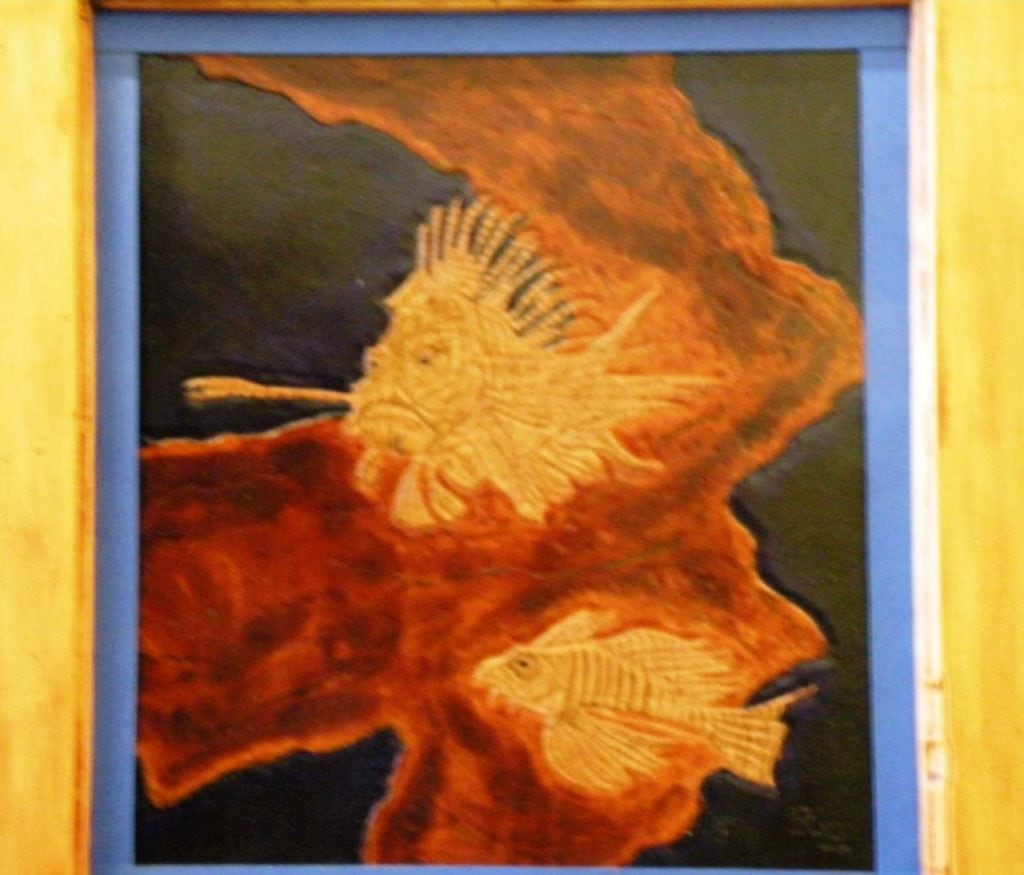 LION FISH
A final piece made for the Oklahoma Aquarium.
DOG PORTRAIT
My daughter headed to college and couldn't take her dog with her. This leather portrait was able to go.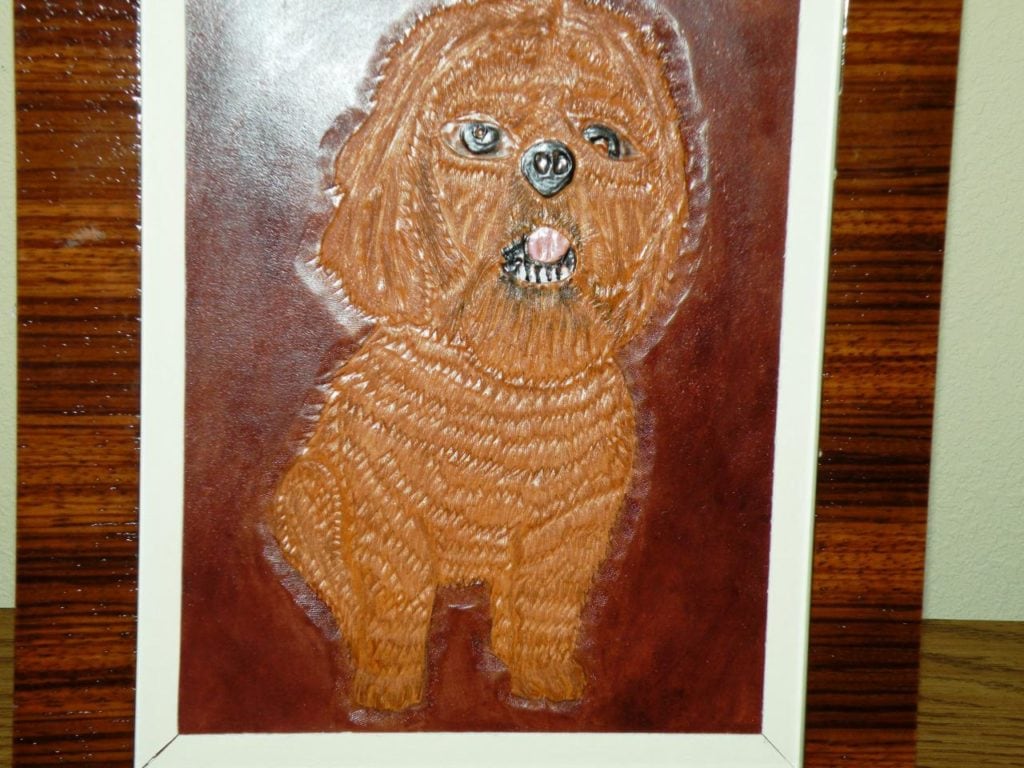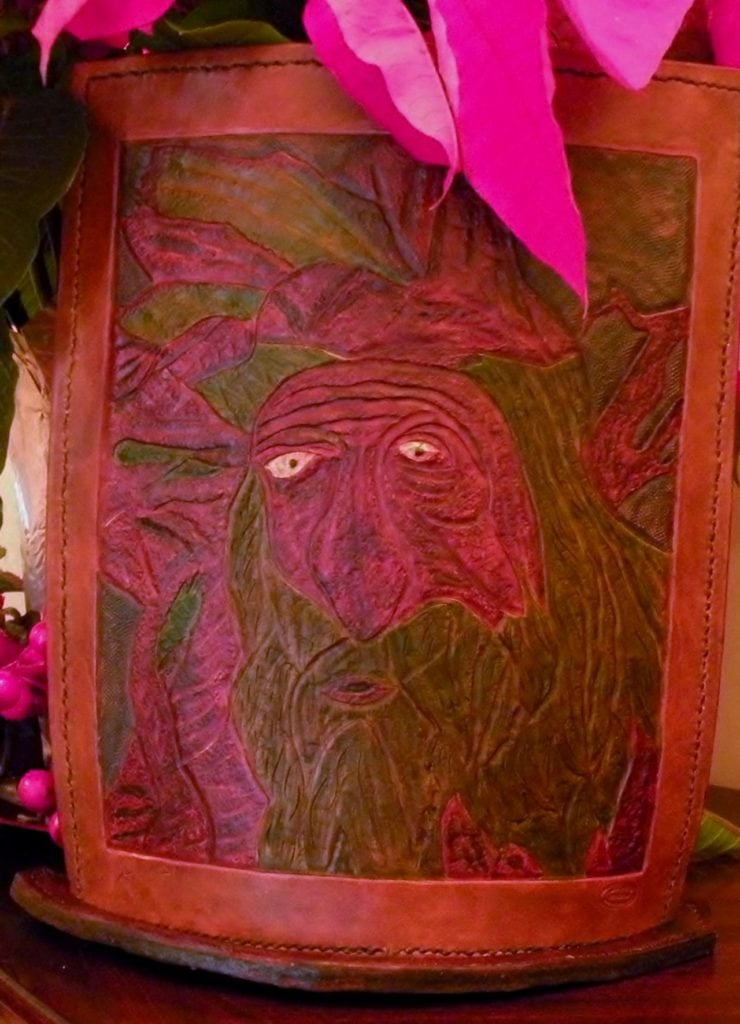 TREEBEARD THE ENT
Designed to sit on a table or can be hung on the wall without the stand. This portrait of "TreeBeard the Ent" from the Lord of the Rings was a big hit with all LOTR fans.
HISTORIC TULSA
Tulsa, Oklahoma has a rich history which is celebrated in this collection of small leather pictures. Cains Ballroom–"The House the Bob (Wills) Built" has been a center for live music since before World War II. The "Tulsa Driller" stands proudly in front of the fairgrounds celebrating Tulsa's historic role in the growth of the oil industry. "The Praying Hands" stand at the entrance of Oral Roberts University. Finally, "Route 66"–"The Morther Road"–runs through Tulsa.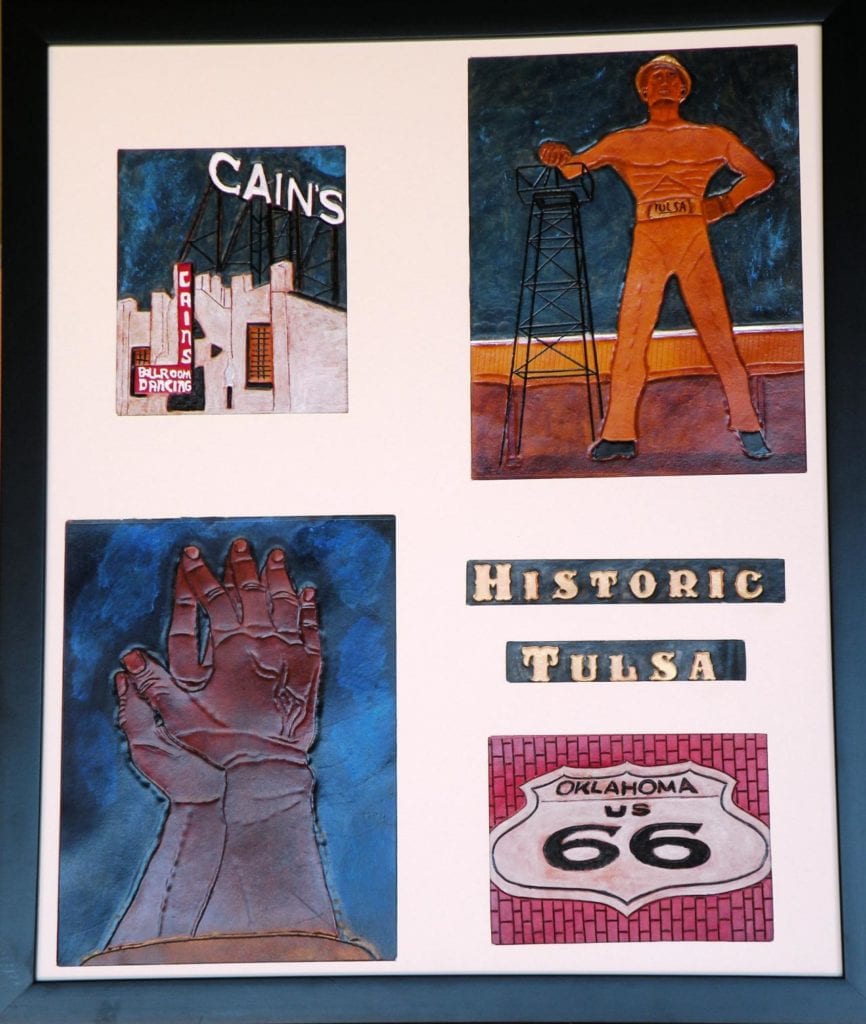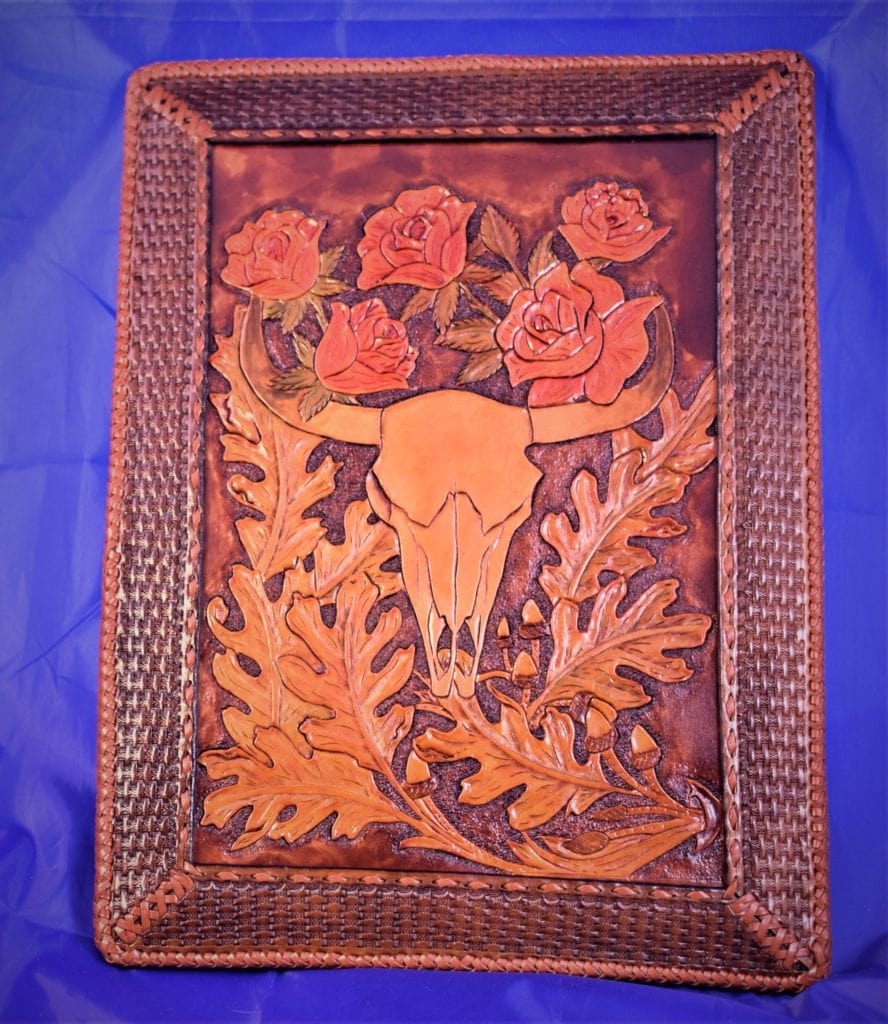 The Purdy Cow
A wall hanging with a mixture of floral carving, pictorial carving and stamping. All leather except the D-ring and rivets on the back for purposes of hanging it.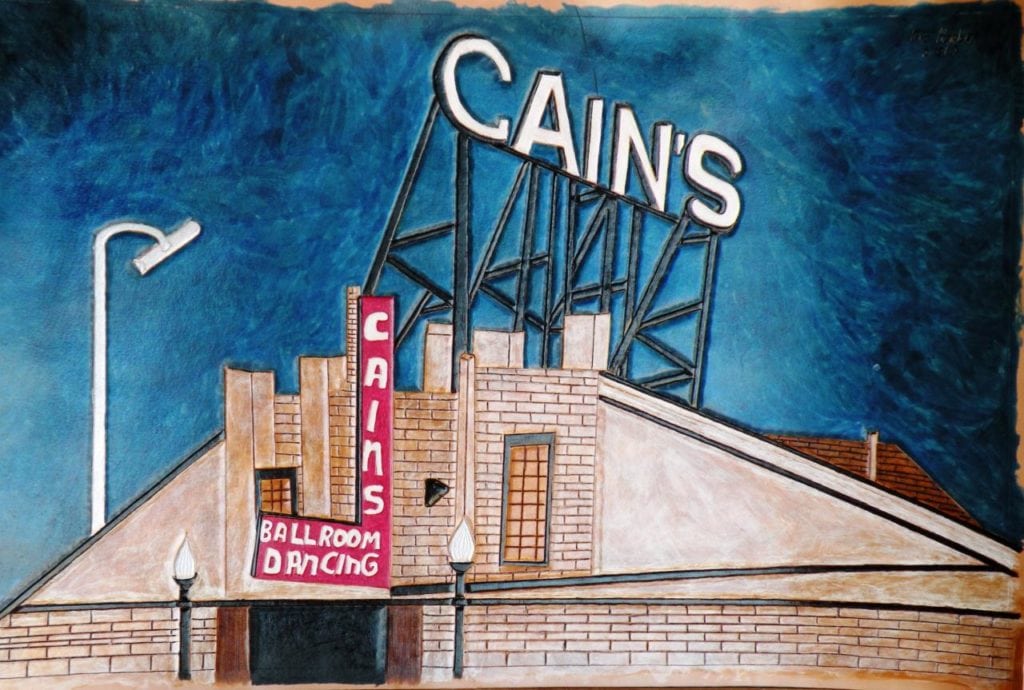 CAIN'S BALLROOM
This is a larger more complete picture of Cain's Ballroom. This piece now resides in Colorado. The edges are unfinished since it was to be framed.
Any landmark can be converted to a leather portrait…all I need is a picture.
BOSTON AVENUE METHODIST CHURCH
The Boston Avenue Methodist Church is another famous landmark in Tulsa. The Art Deco features of the church are too numerous to mention. This is my attempt to capture one small part of this amazing structure.
No your eyes aren't off..the photgraph is not straight.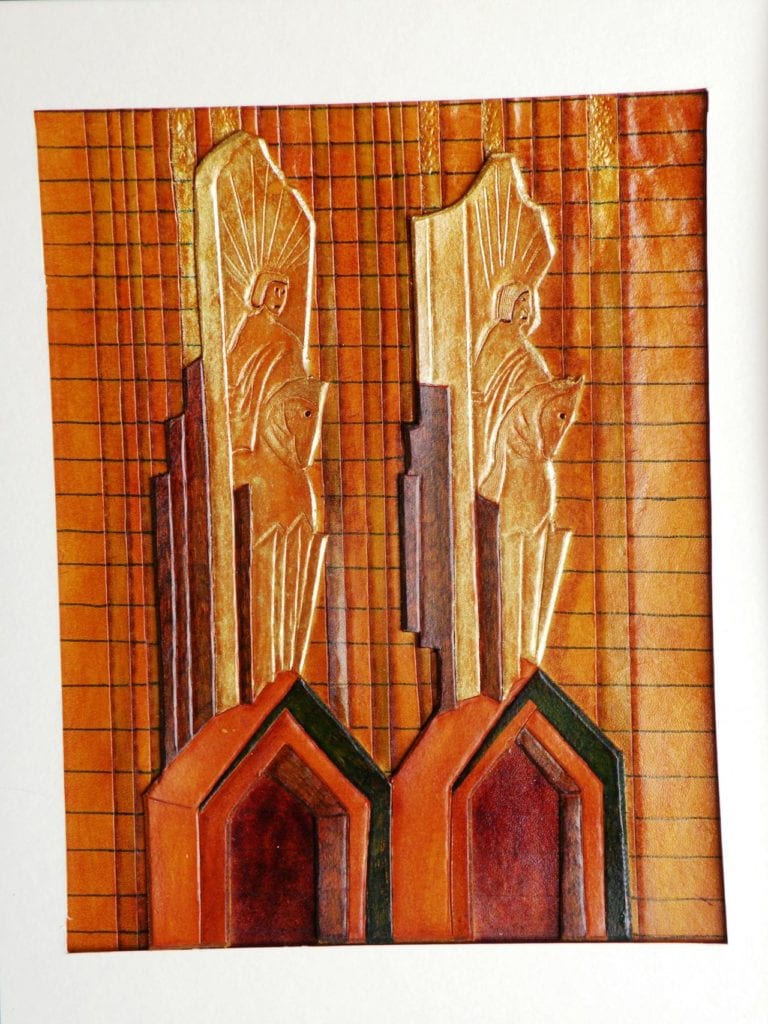 Fred the Steer
MASKS
These masks are formed of wet leather on a manikin head and allowed to dry before being dyed. Versions to wear, or to use as wall hangings are possible. Those for wall hangings are stiffened using polyurethane. The idea for the black and white masks come from a classic episode of Star Trek.