With the current situation, craft shows and other events where I might normally show my products have been cancelled. So, I'm adding this page where some of my existing inventory or finished products are listed. If you see something you like, hit the "Email Ric's Leather" button; and drop me a line; and I'll hook you up!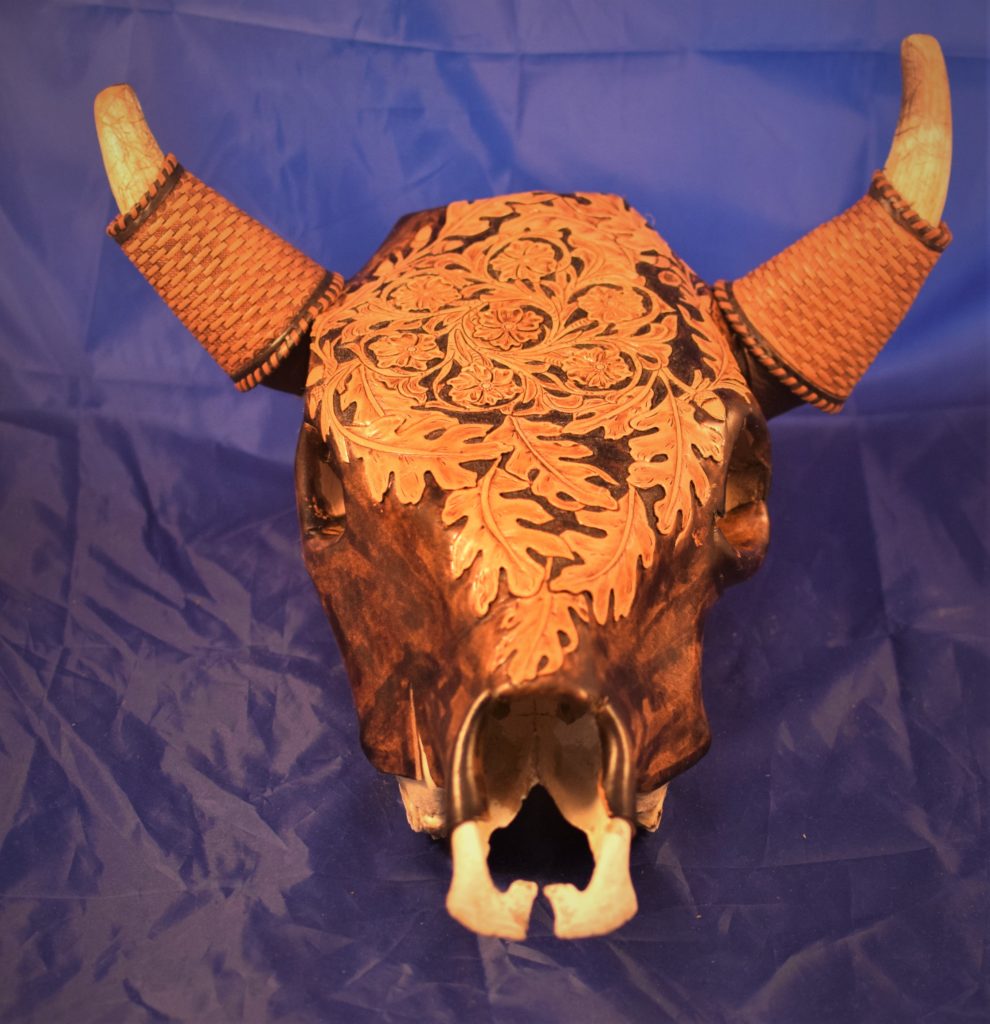 Meet "Oakie"….a steer skull wrapped in tooled leather. Center of tooled pattern is a floral pattern surrounded by oak leaves.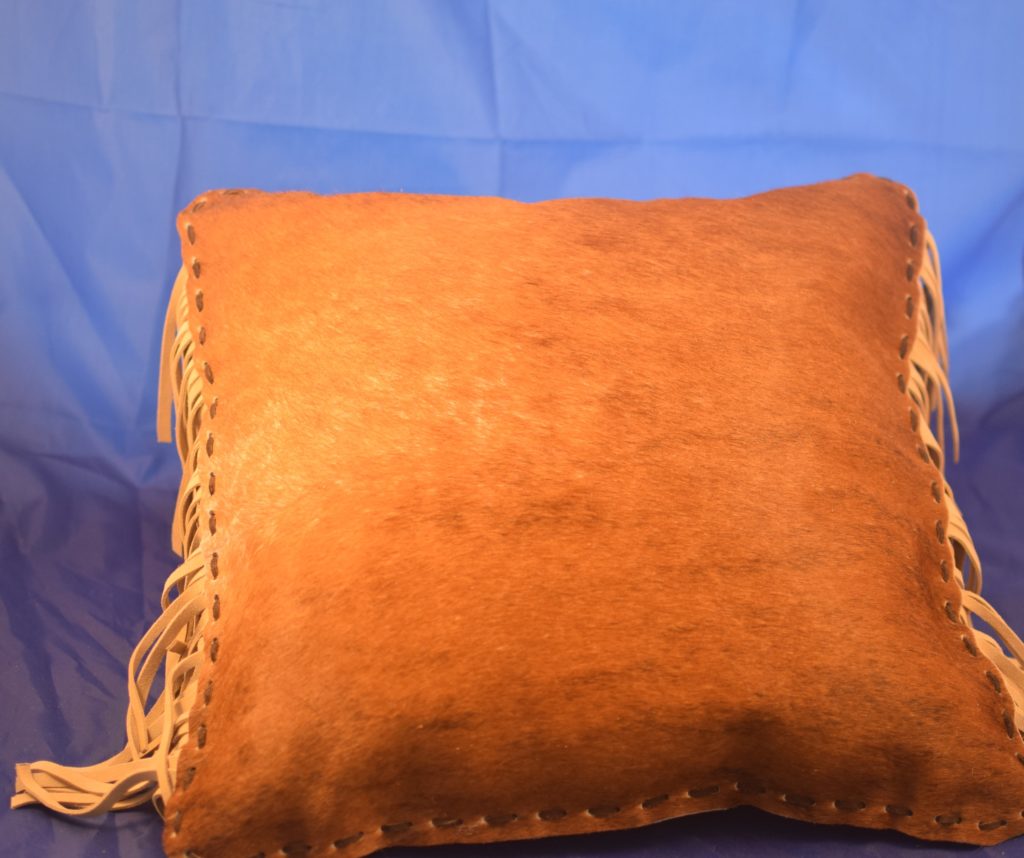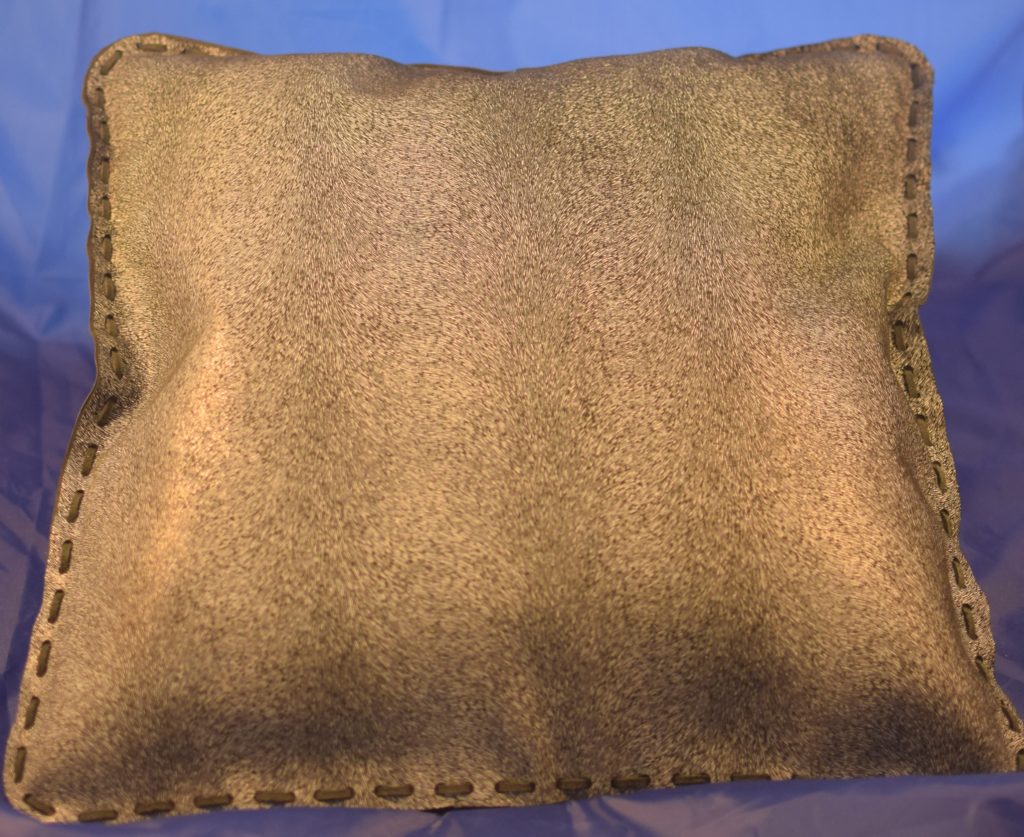 Leather pillows..these are 16″x16″, but can also make 12″x12″ versions. The first one shown is brown hair-on cowhide on side shown, with brown upholstery leather on the other side. Suede fringe on two sides. The second picturedis black calfskin on one side with the other side in black javalena (shown in picture); no fringe.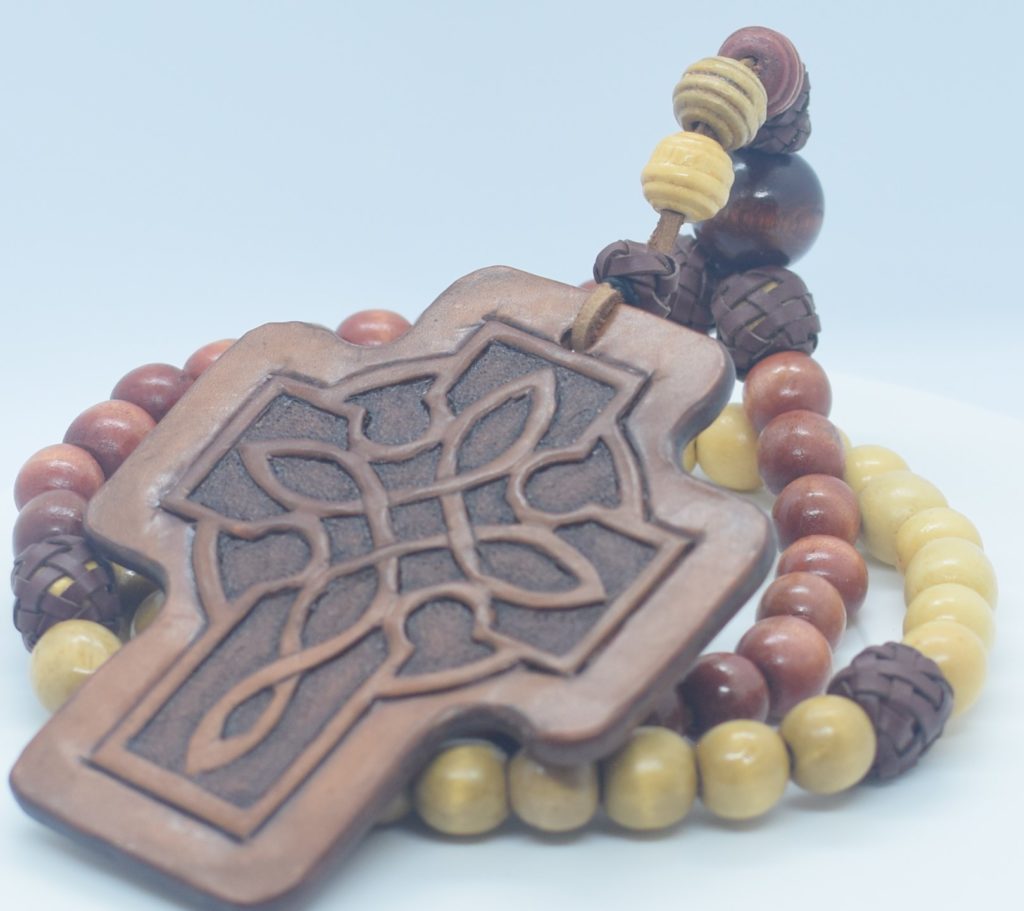 Leather and wood rosary. Decade beads are wrapped with a kangaroo lace turkshead knot.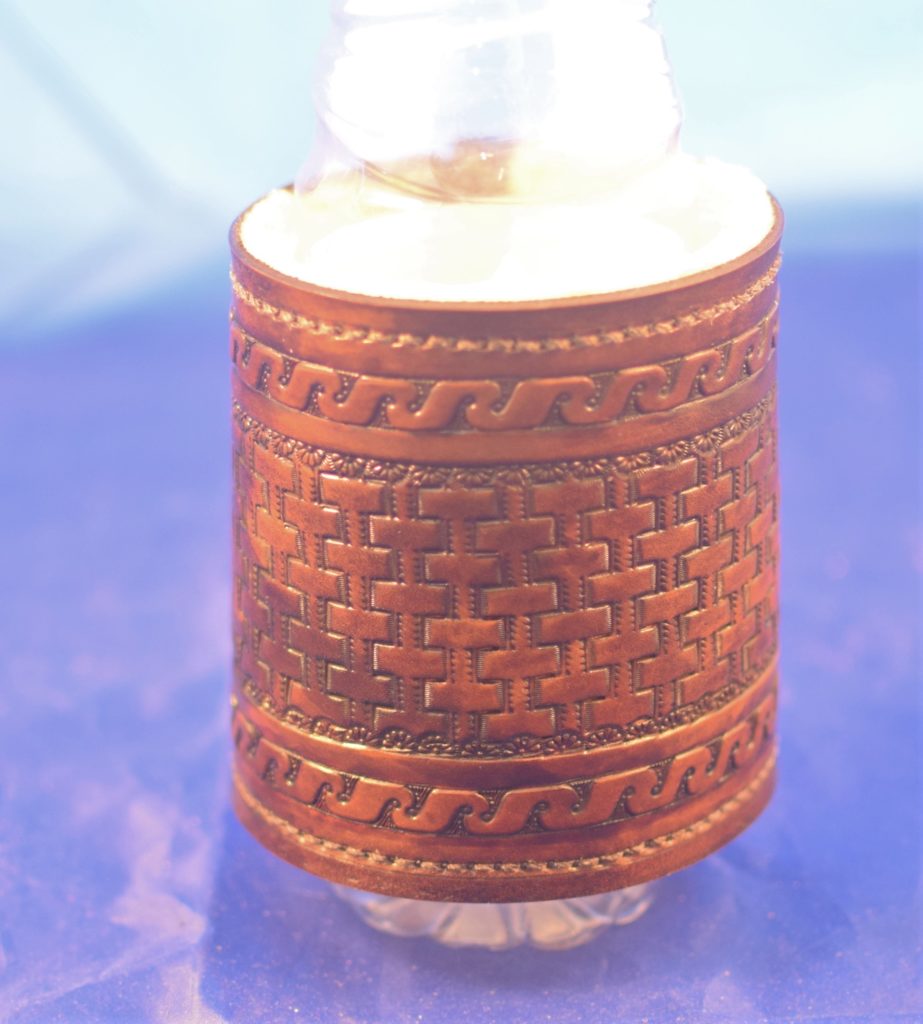 Leather koozies with wool lining to keep your drinks cold and protect your hands. Fits standard sized bottles and cans.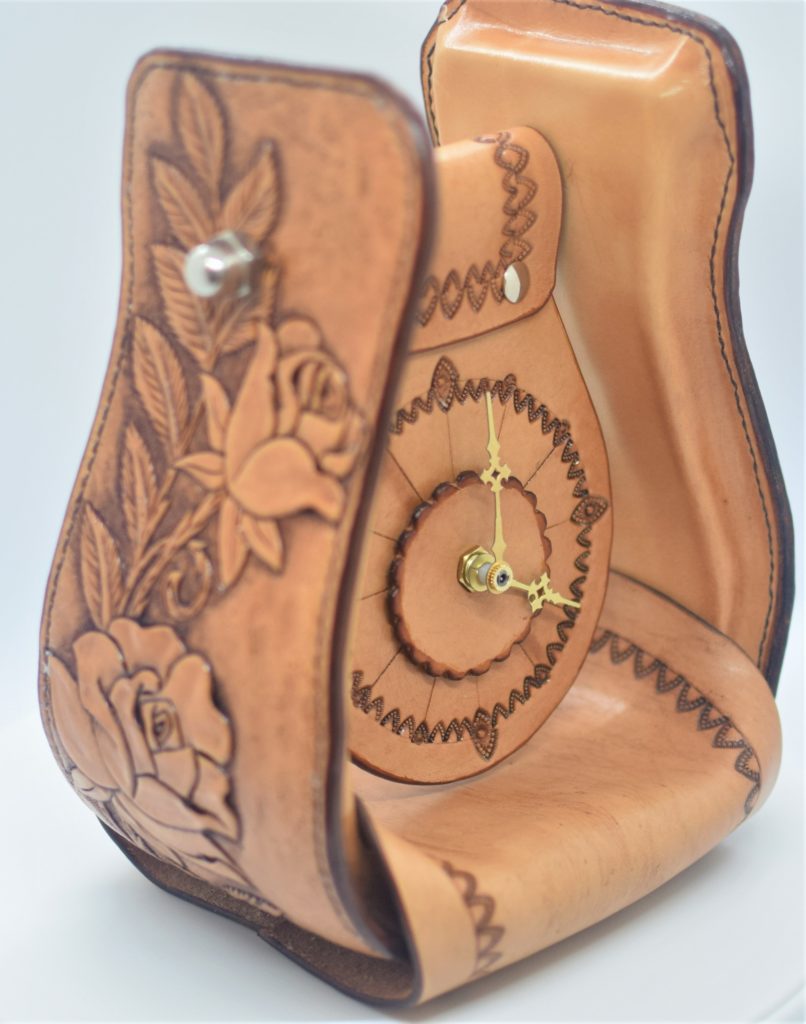 Stirrup clock with roses on the side. Clock mechanism runs on a AA battery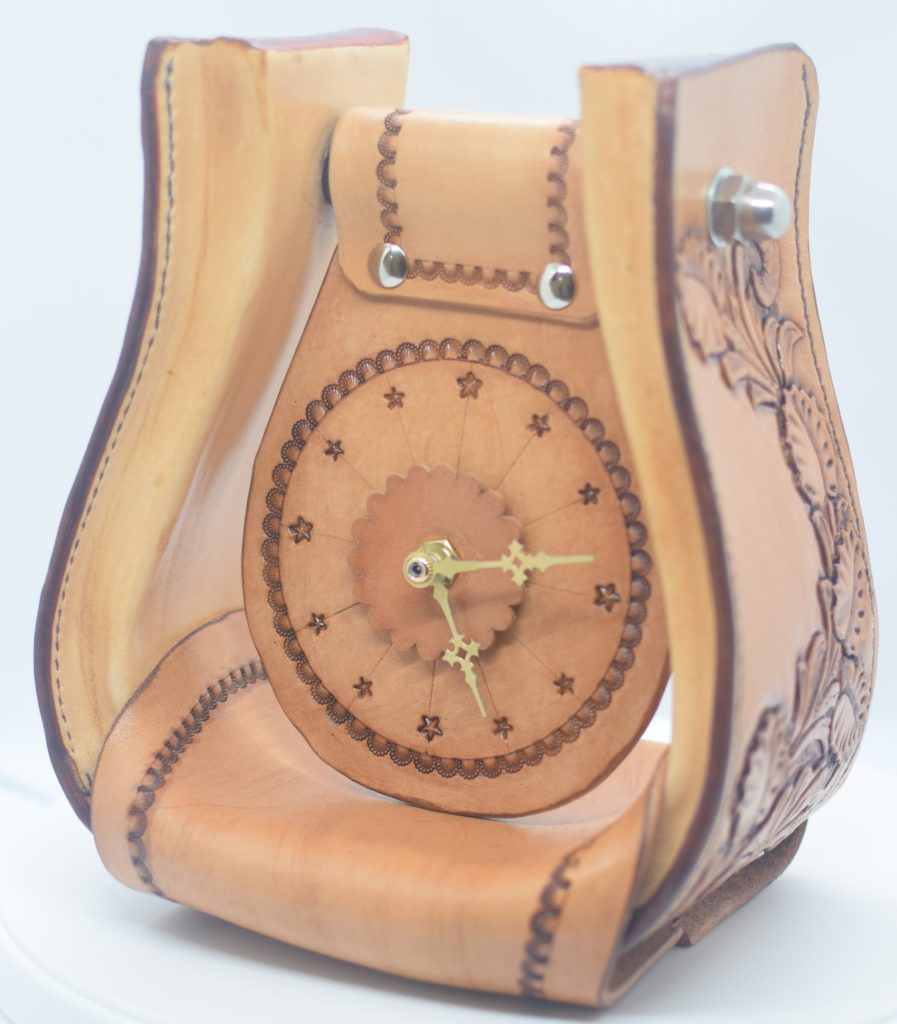 Stirrup clock with a flower and leatves on the side. Clock mechanism runs on a AA battery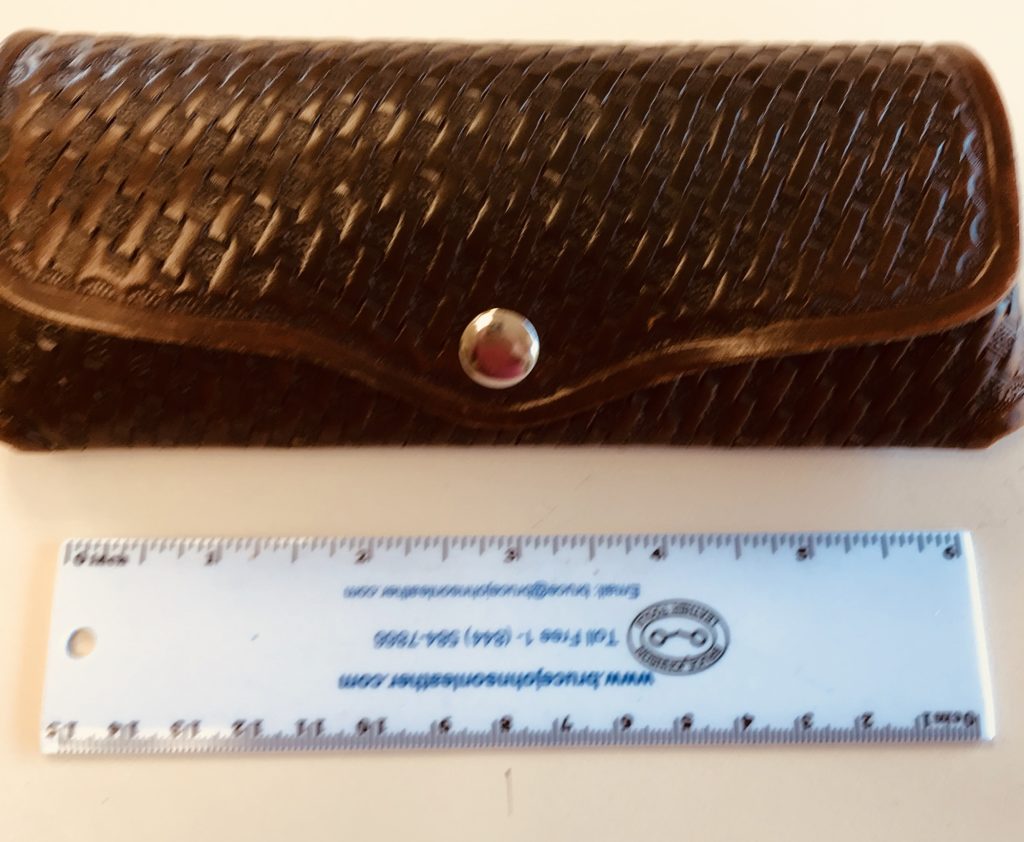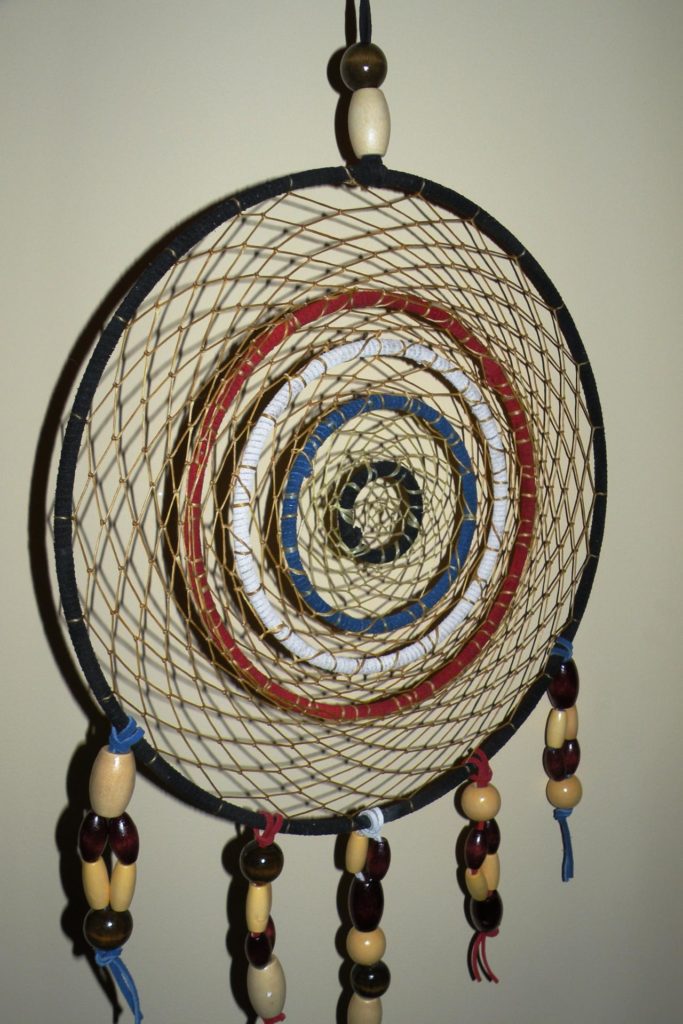 Embedded Dream Catcher….round and round they go….five in one dream catcher!

Applique dog leash, 6 feet long with trigger snap.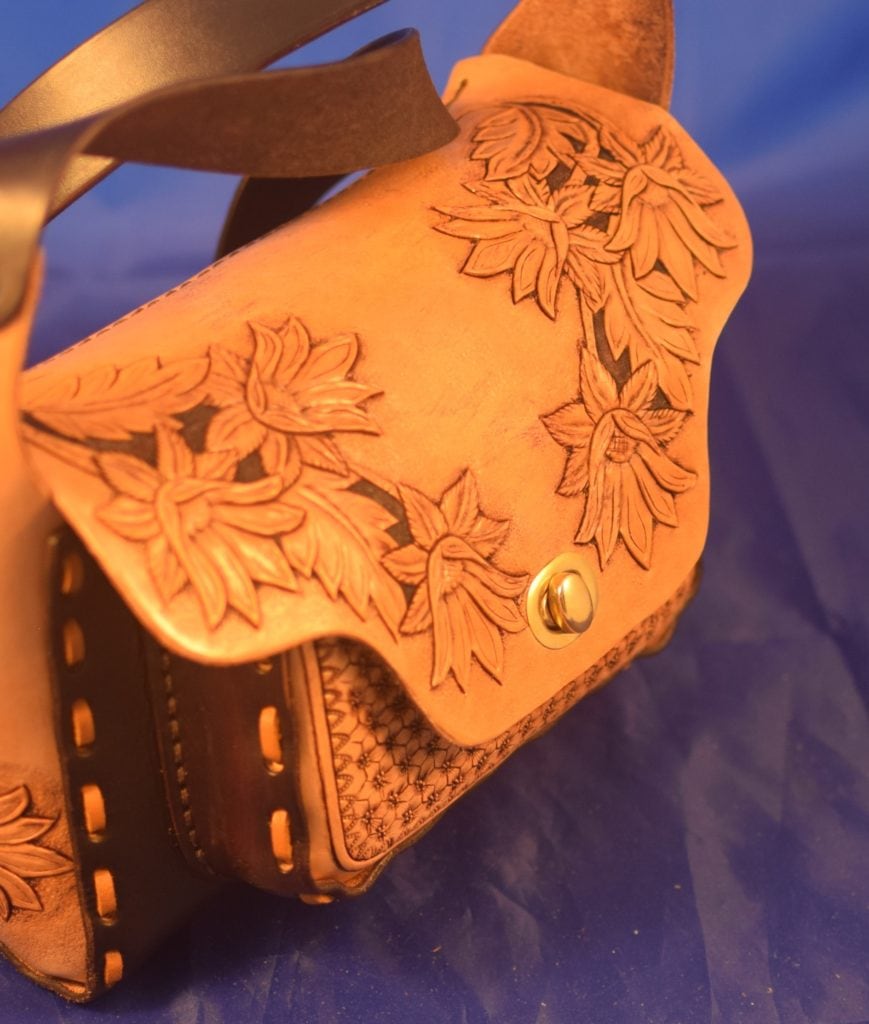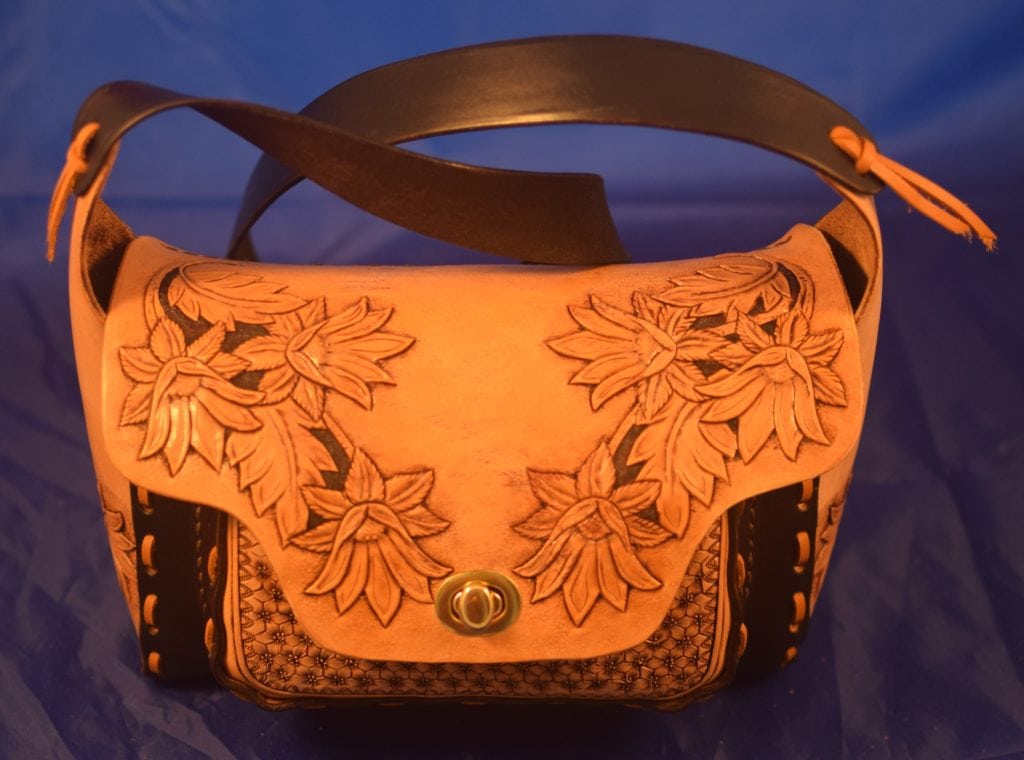 L-Purse…two toned with floral design on flap and sides, unlined.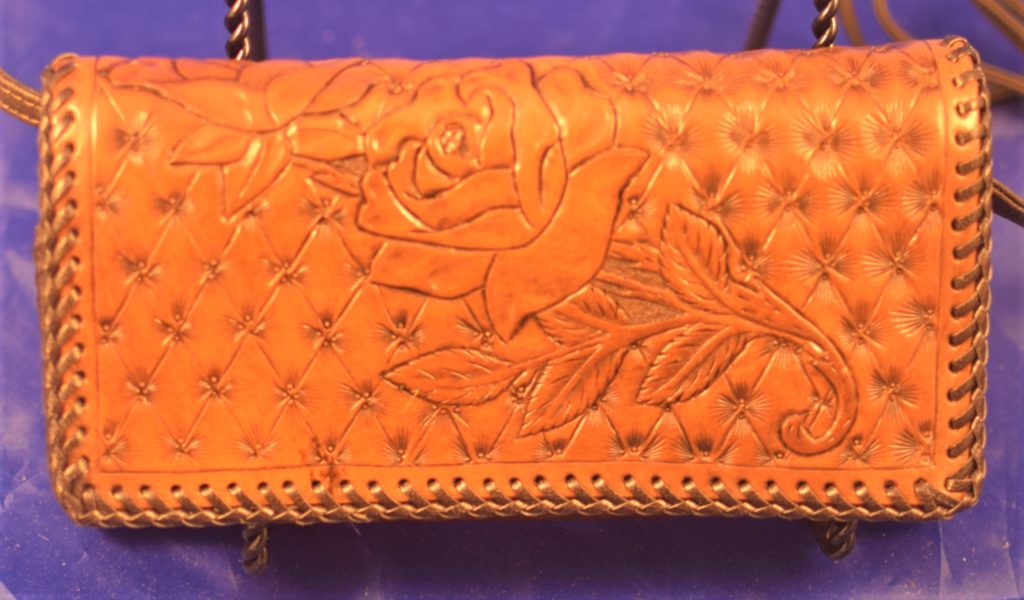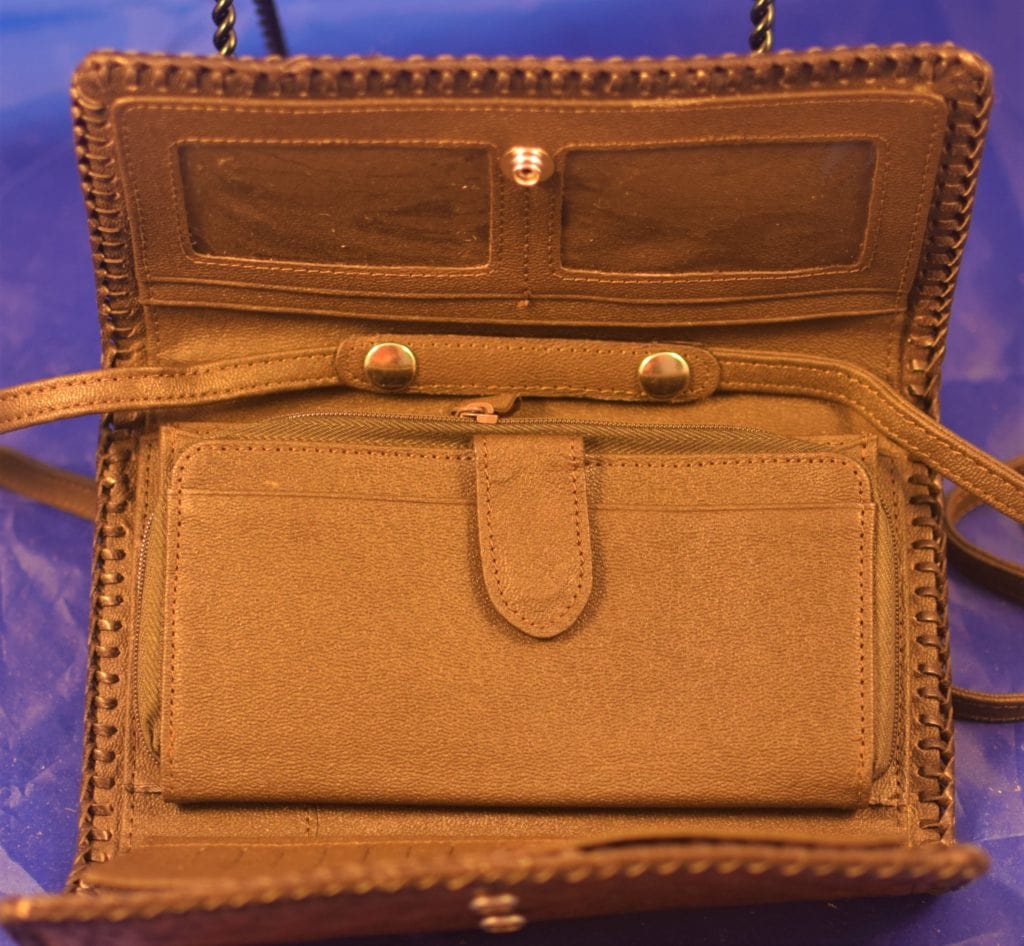 A-Clutch/Purse…laced edges with removable shoulder strap, rose and quilt pattern. Largest of the clutch/purses.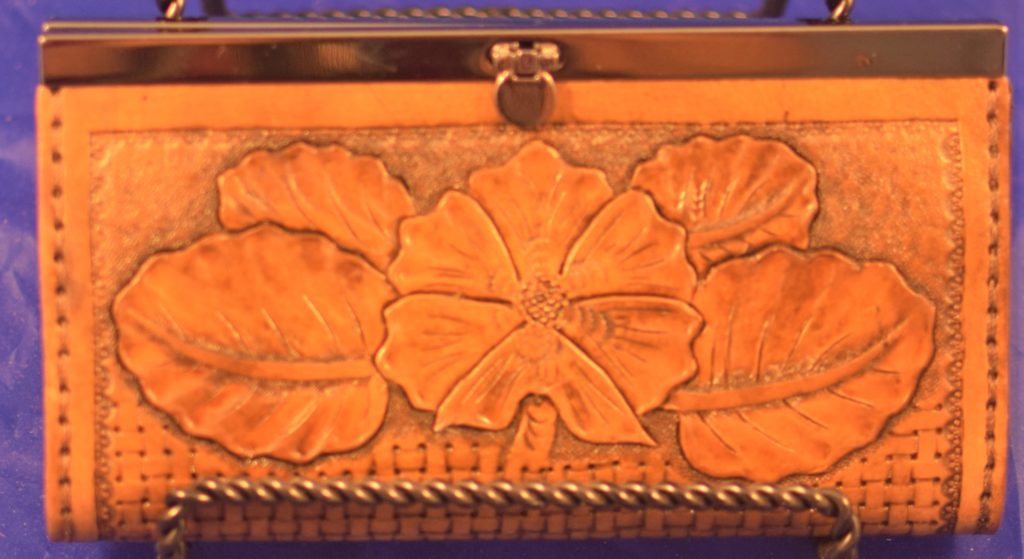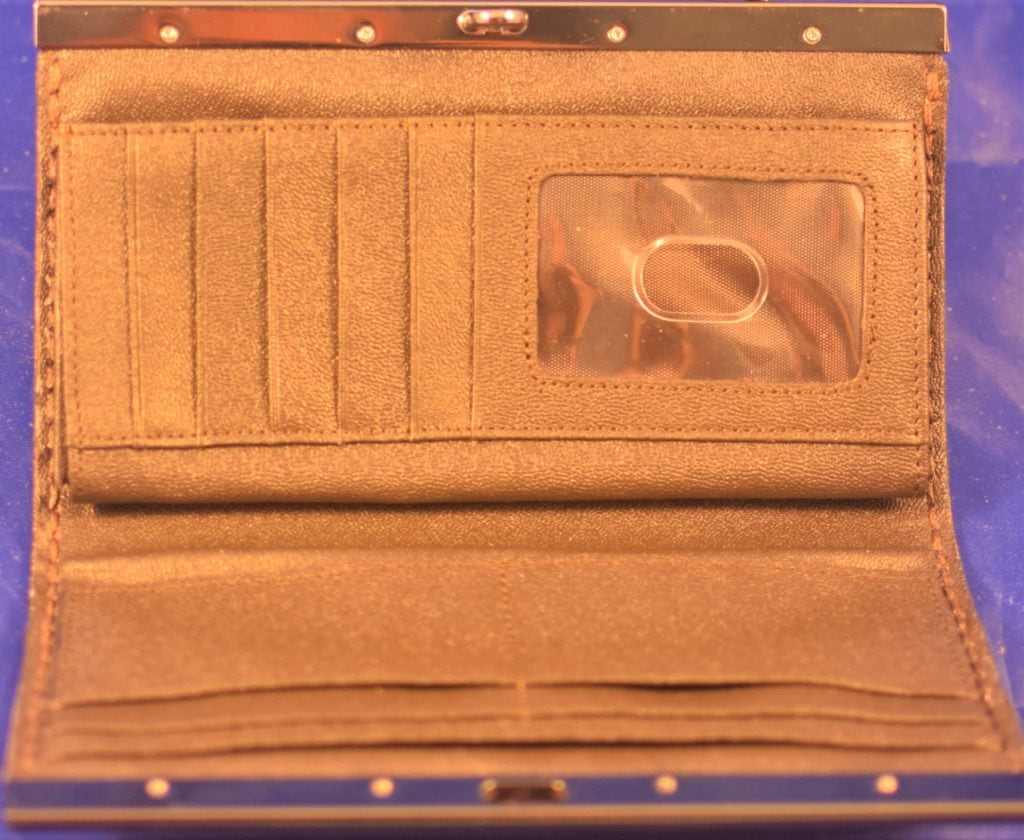 K-Clutch, floral with wicker background.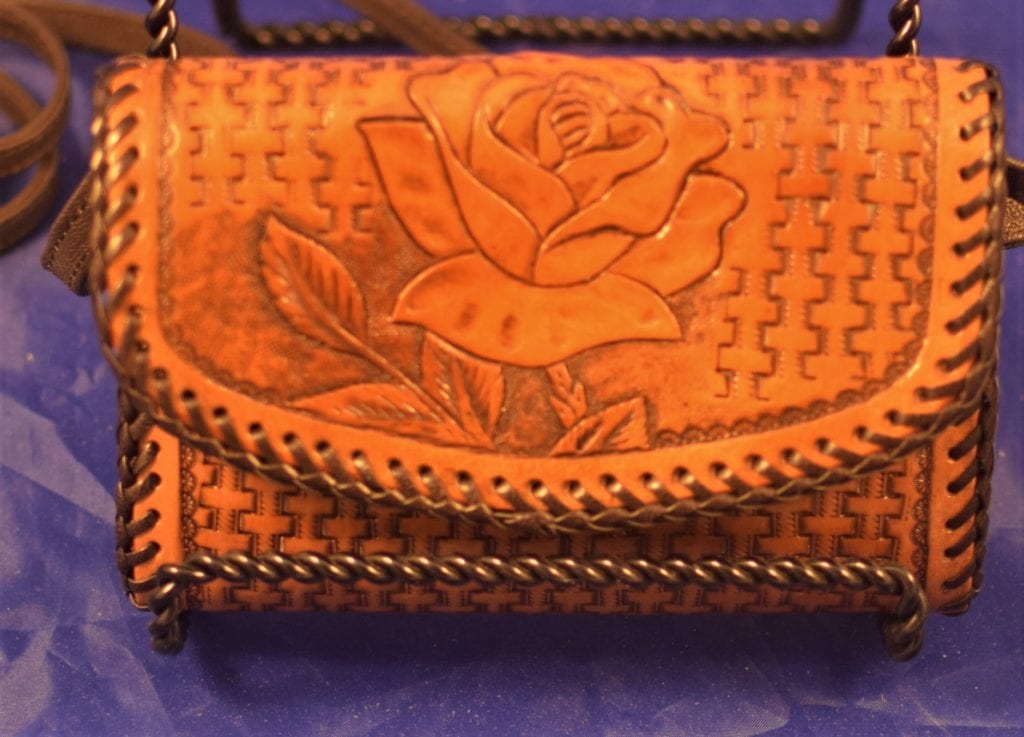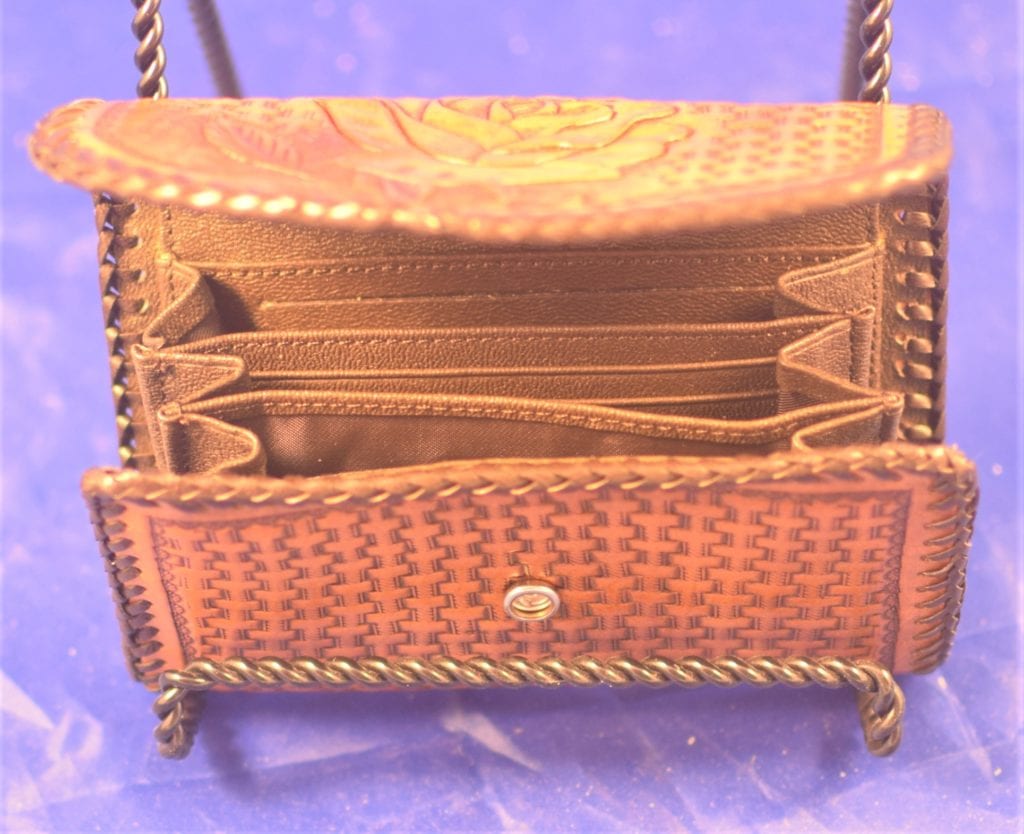 V-Clutch, laced edges, removable strap. Rose with basketweave. Compact size.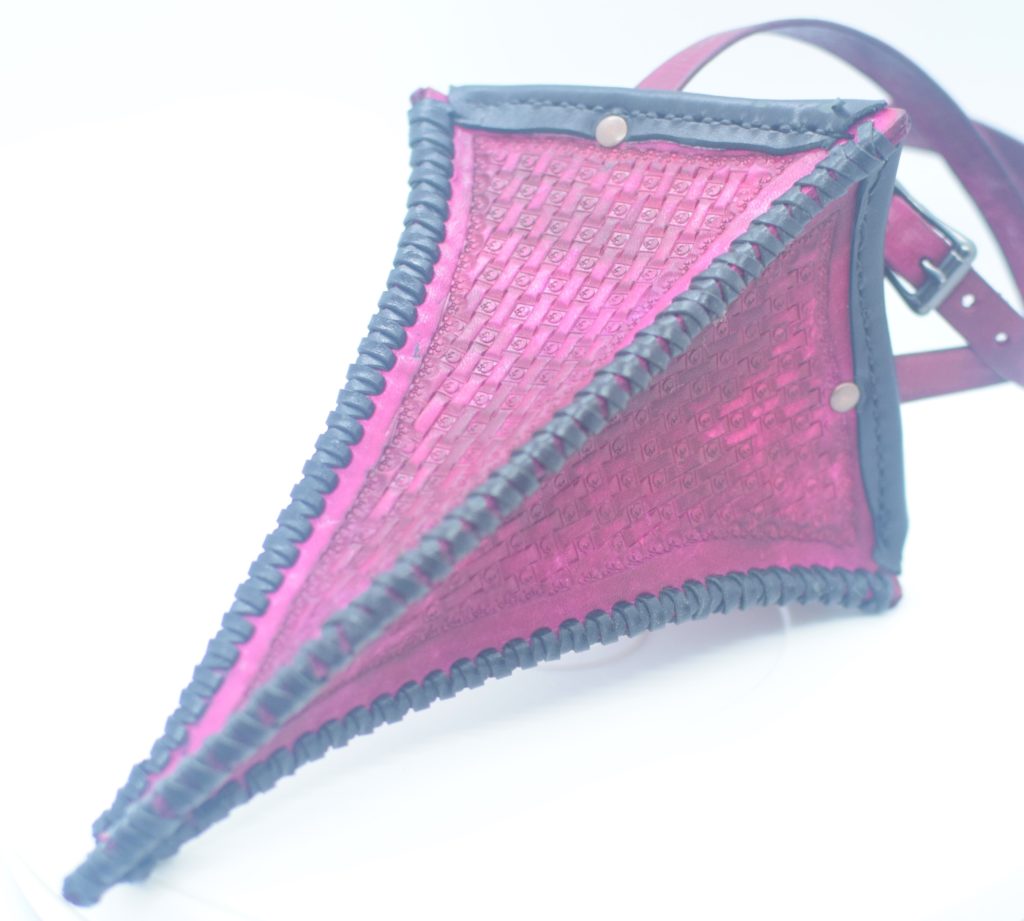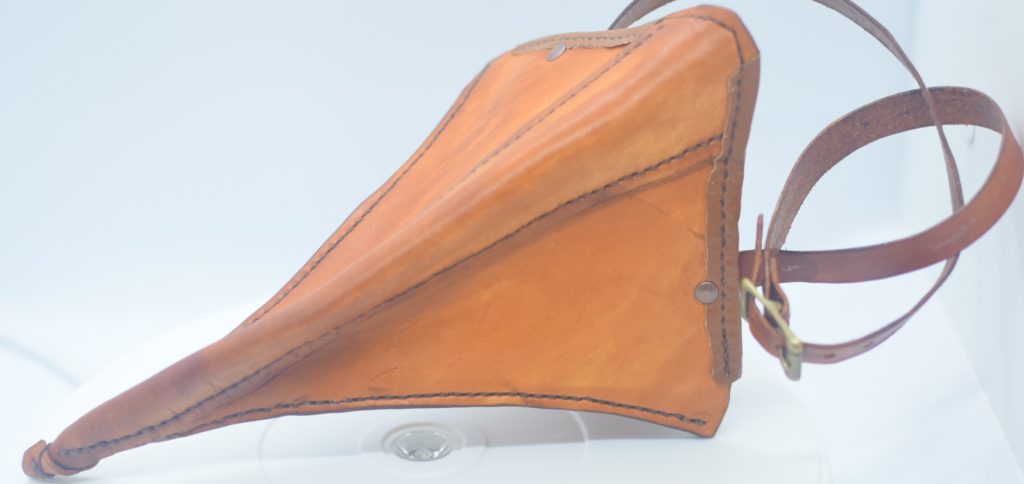 Leather plague masks, lined. Red with black kangaroo lace or brown and sewn.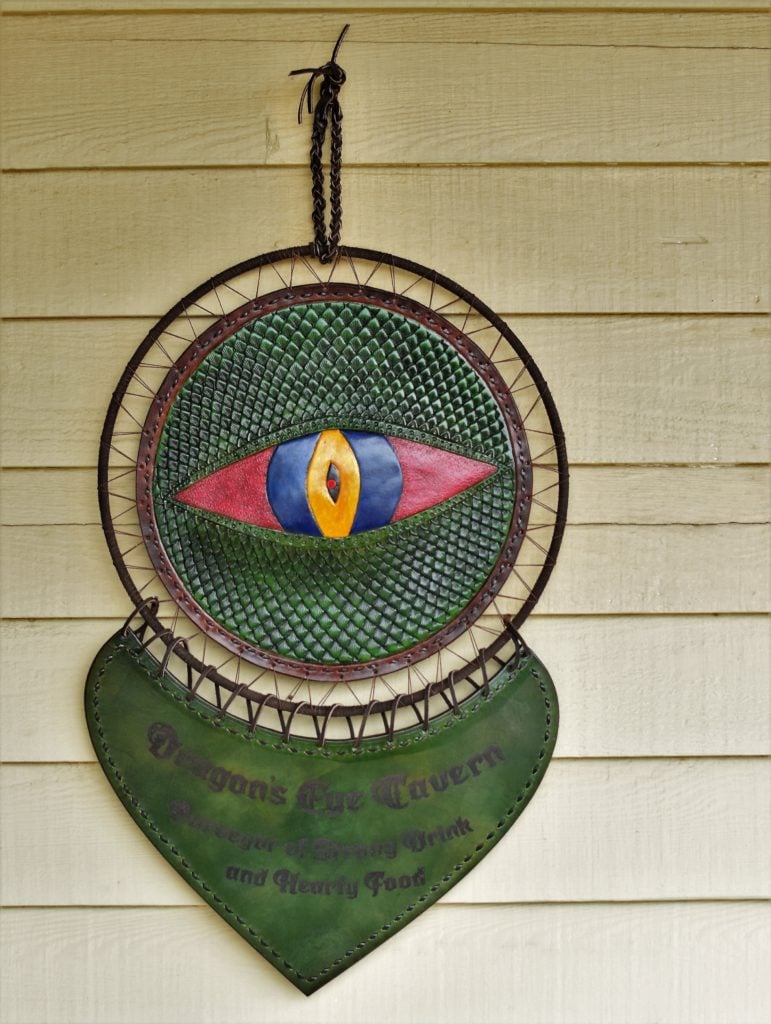 Dragon's Eye Tavern wall hanging. Add that special touch to a room.
K-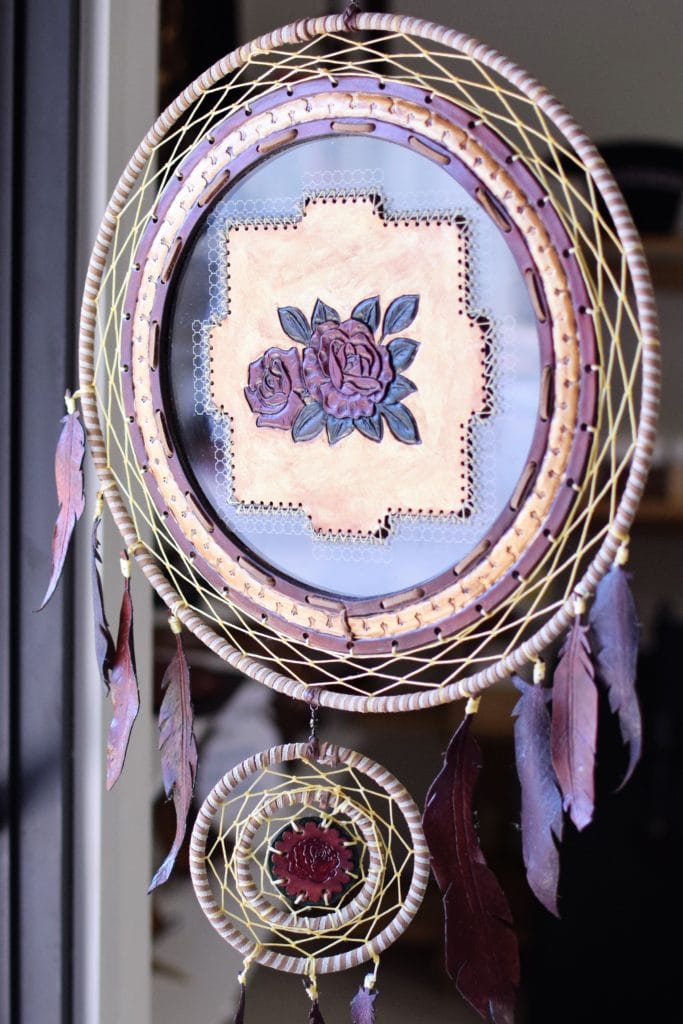 Roses and Fleathers. Can be hung on a wall using either side, or hang in the middle of a room and watch the hoops spin independently in the air currents.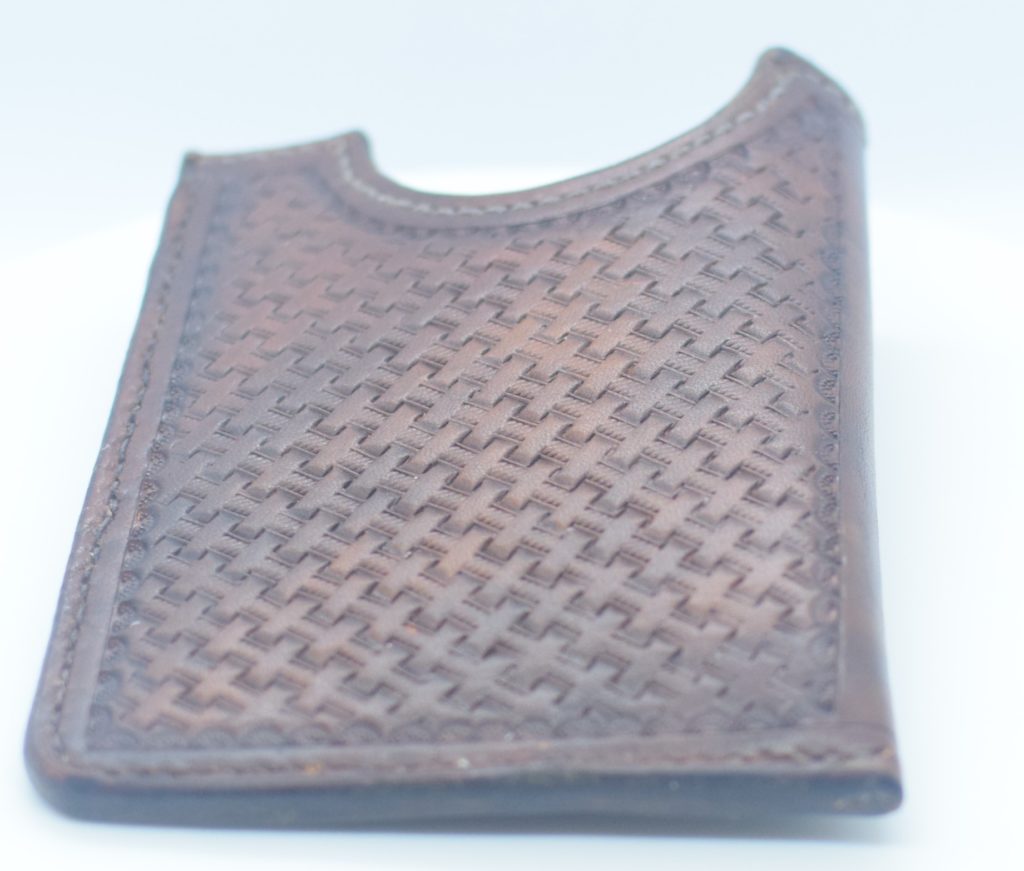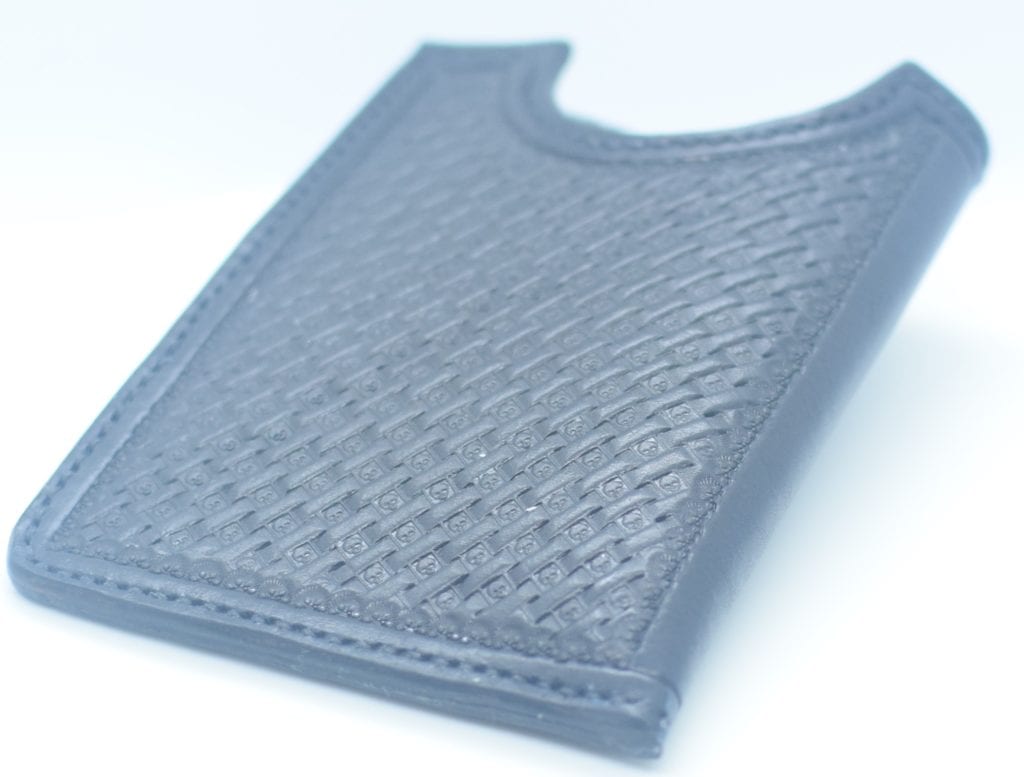 Cellphone holsters. These two plus some more are available, including at least one with laced outer edges.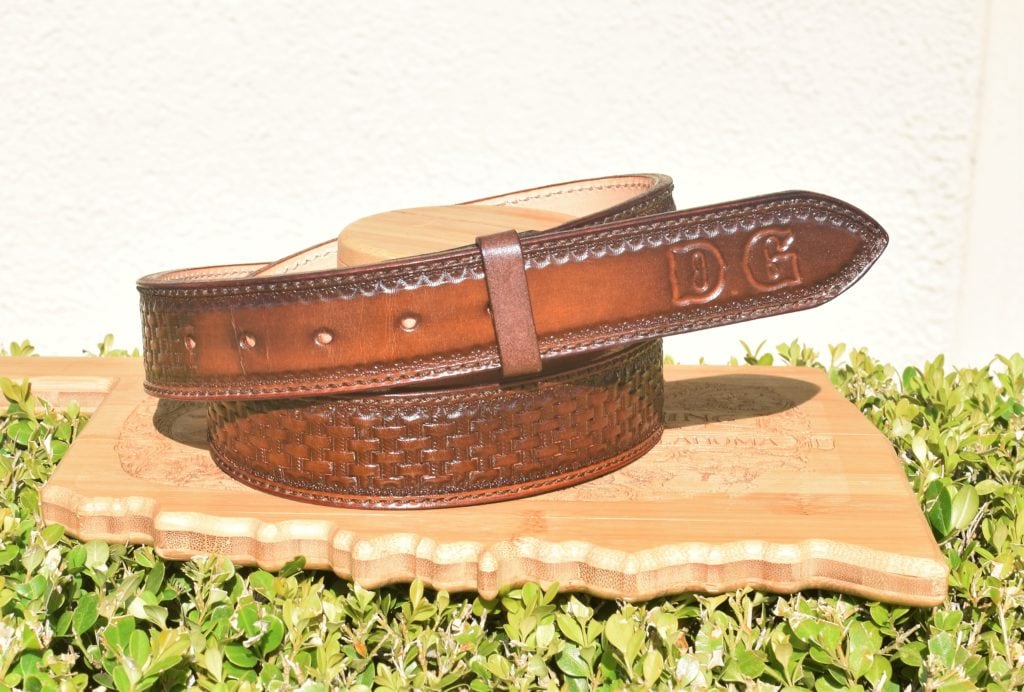 Lined brown belt with basketweave and DG on the tip. This was an order that wasn't picked up by the customer. If it will work for you, can be a great deal.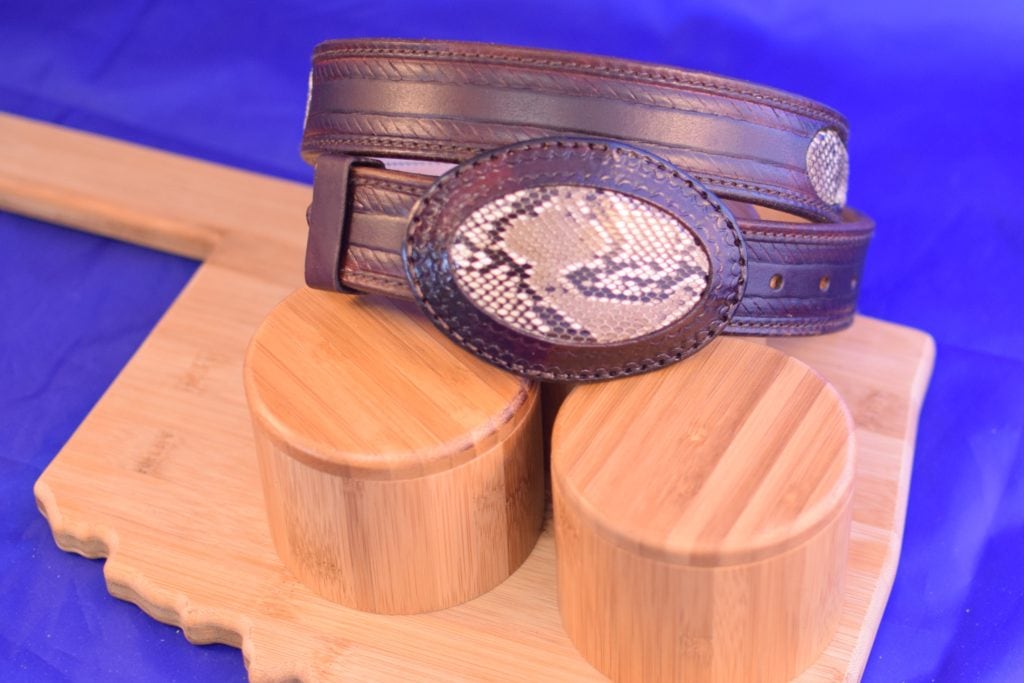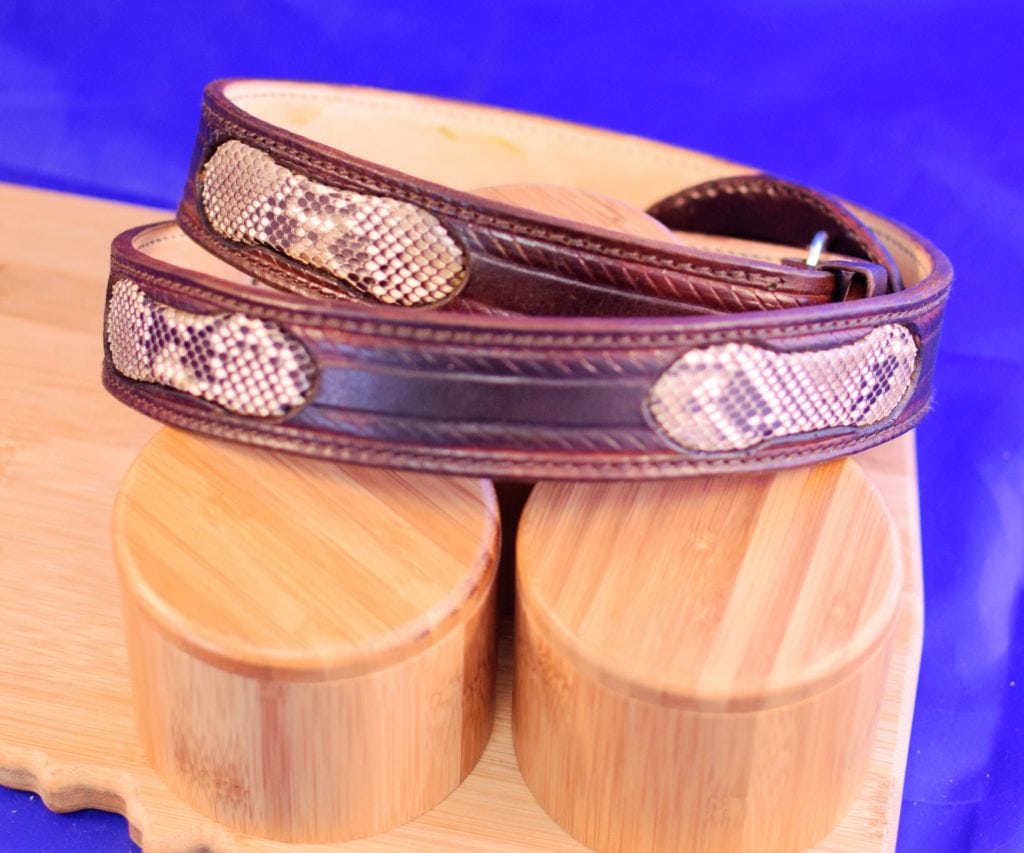 Python inlay belt and buckle.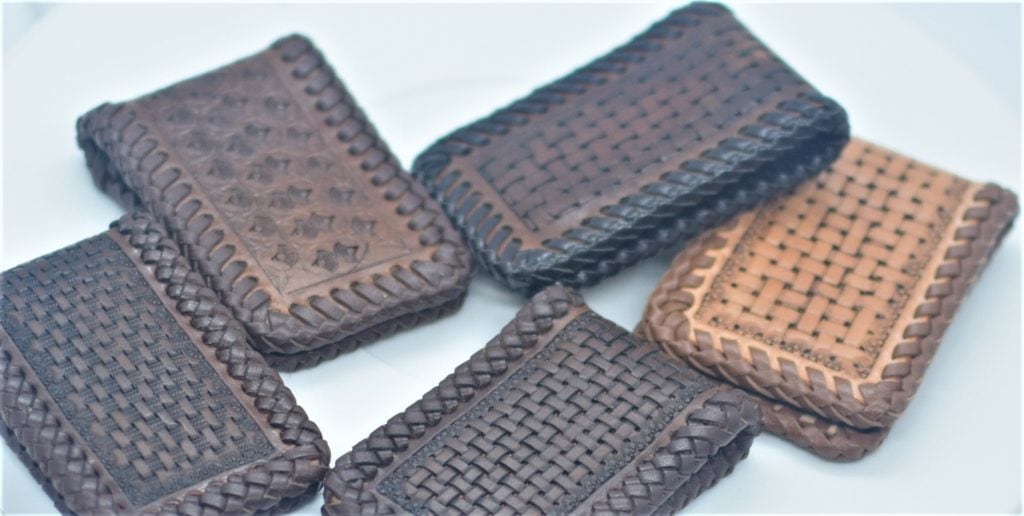 Magnetic money clips with kangaroo lacing.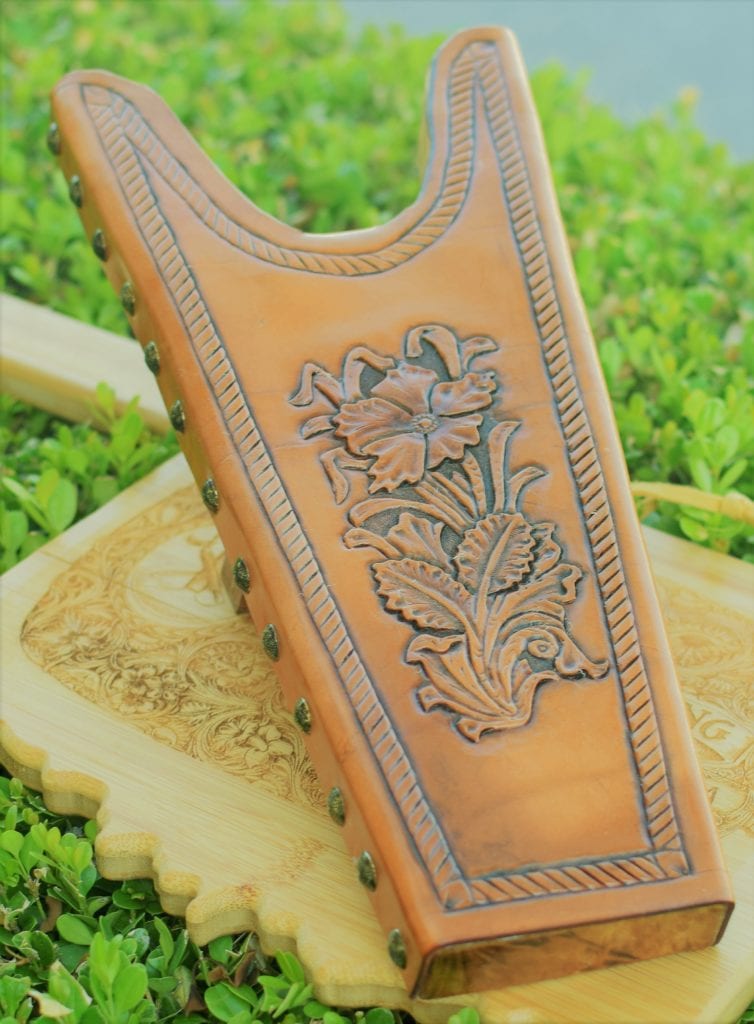 Boot jack….wooden base with tooled leather cover and furniture tacks. Have other wood bases now that may be slightly smaller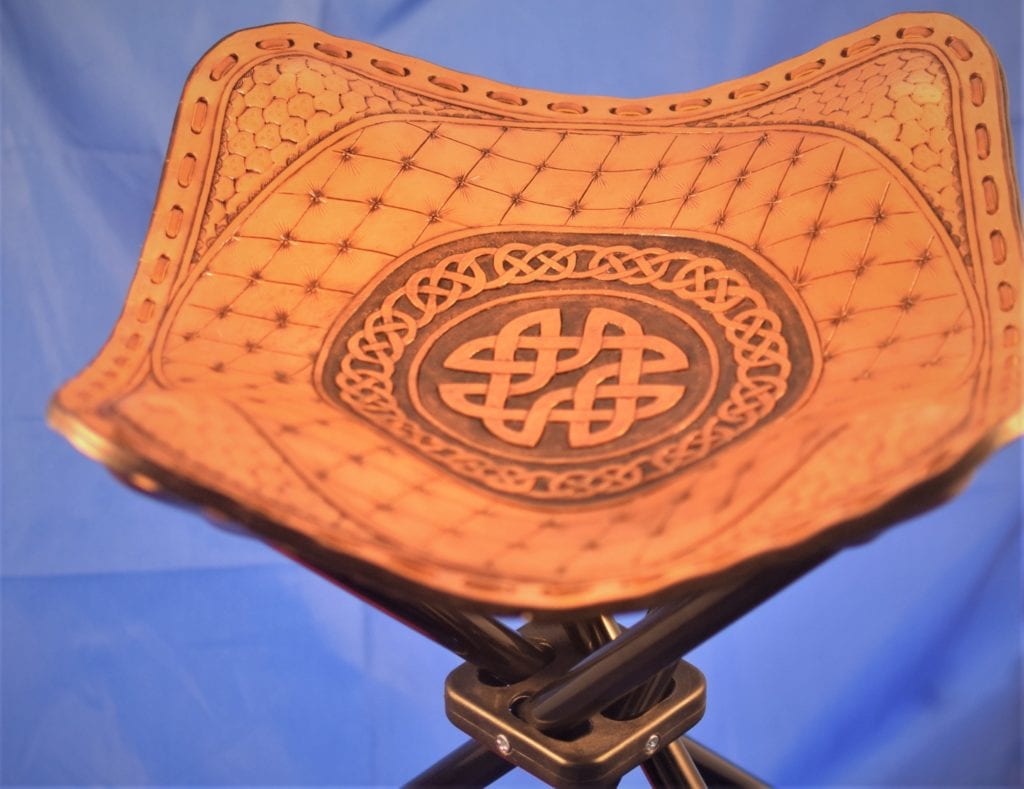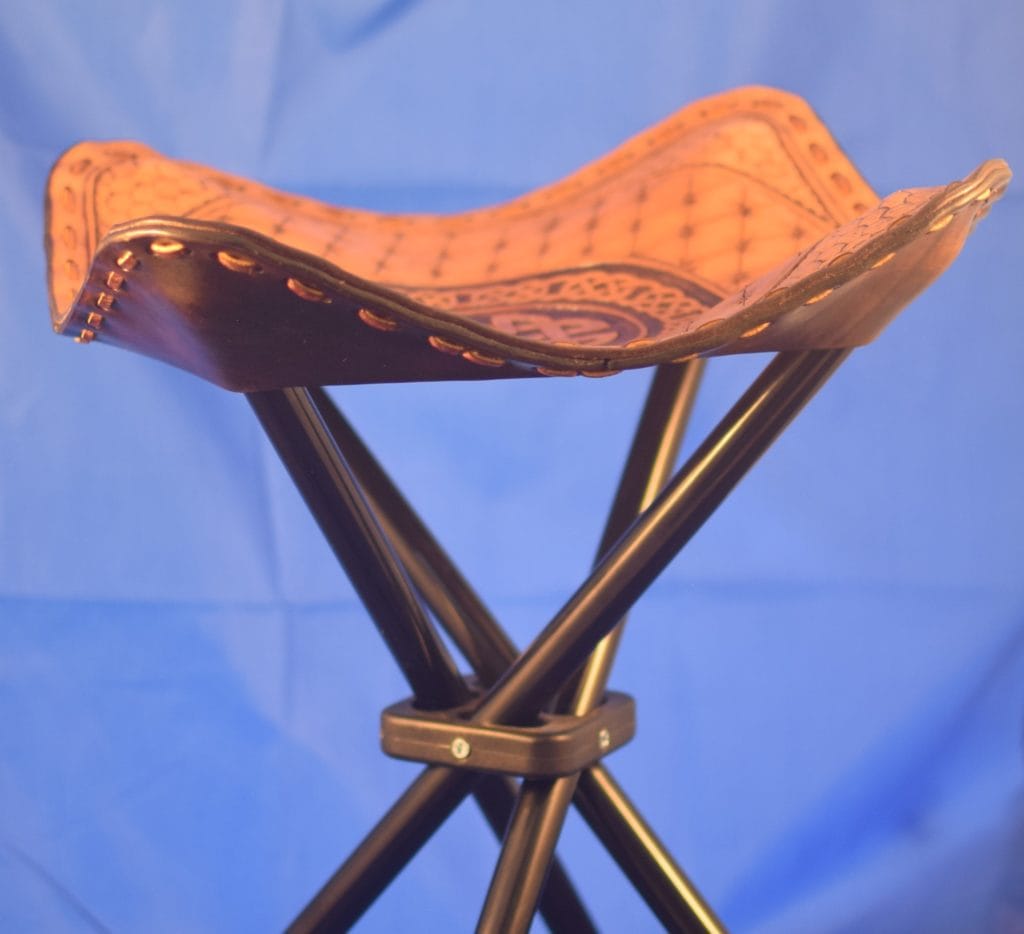 Leather seated camp stool. Design features celtic knots, quilt pattern and tri-foil tri-weave.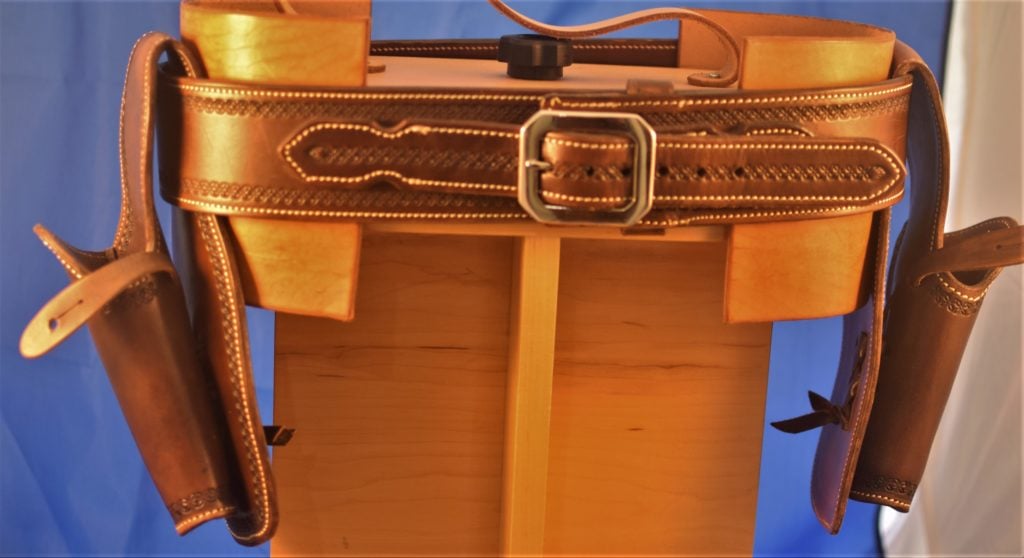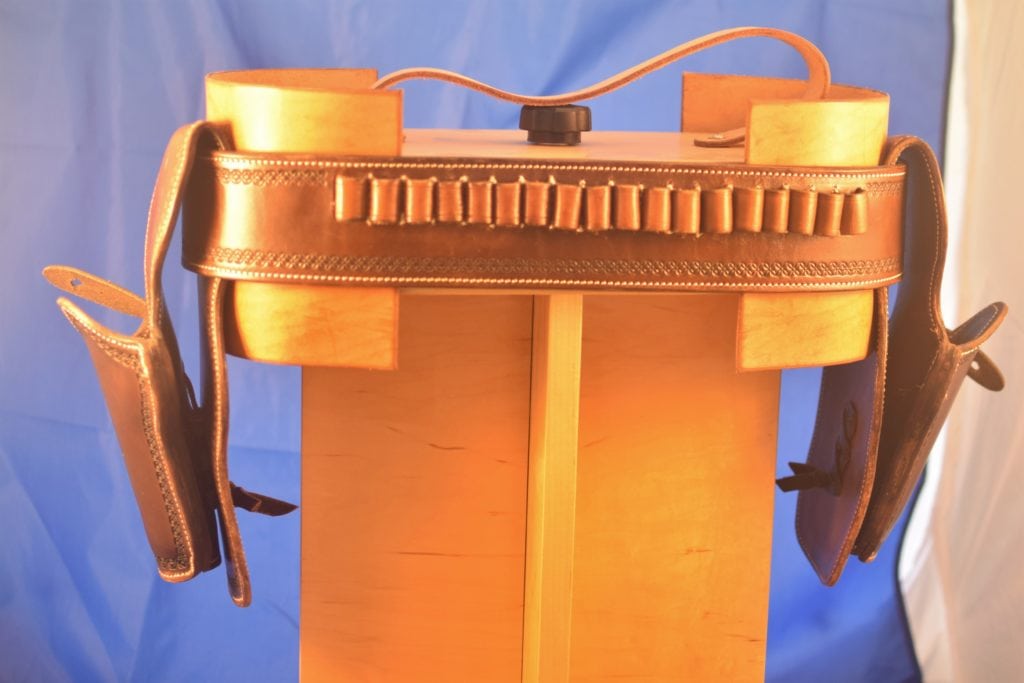 Double holster western rig with border stamping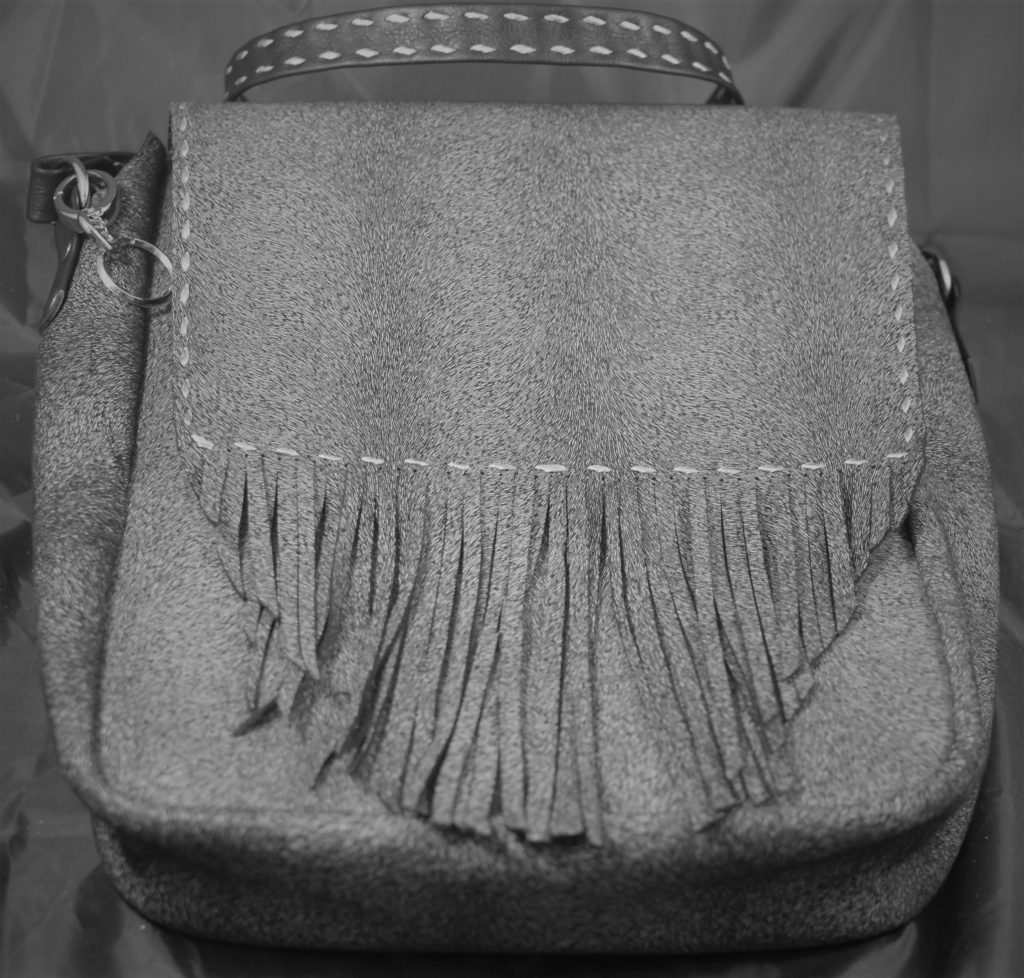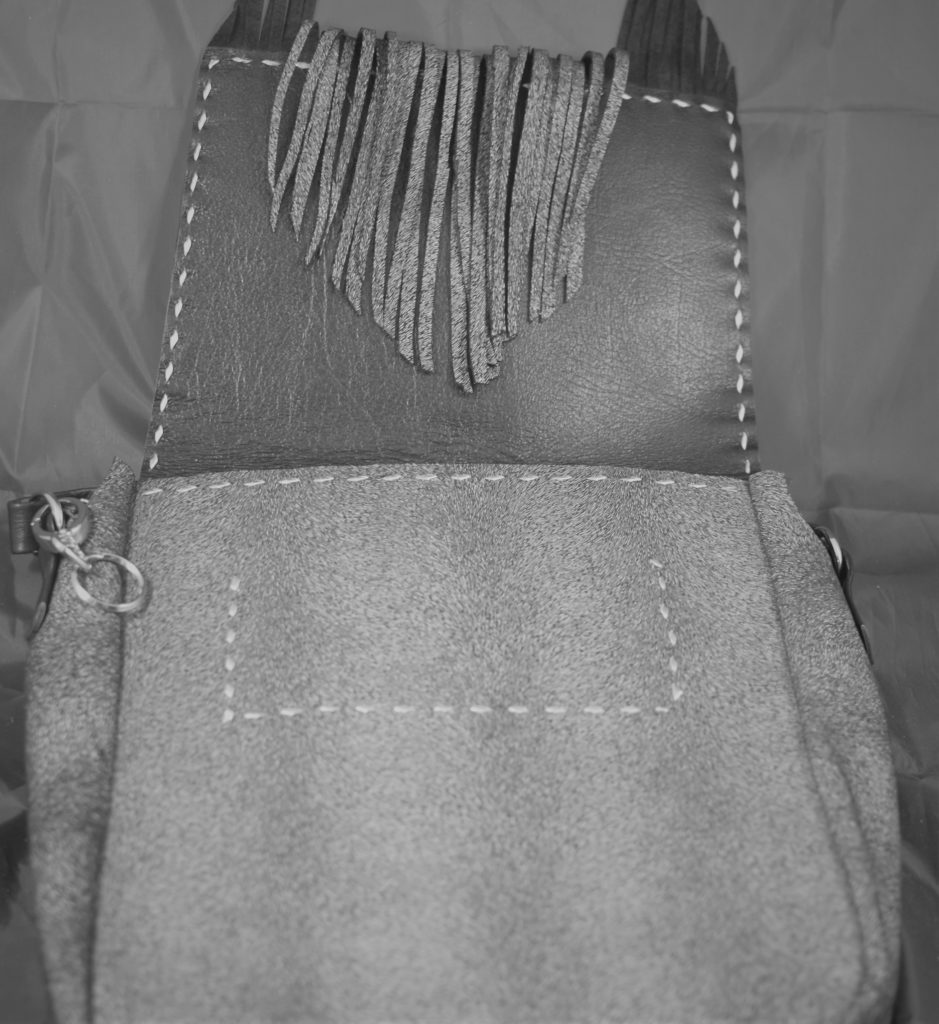 The fringed Javalena Shoulder Bag measures 14″ tall by 12″ wide and 4″ deep. Black and silver javalena hide on the outside and lined with pigskin. Soft cowhide strap and all with silver buckstitching. Phone pocket on the inside of the front panel.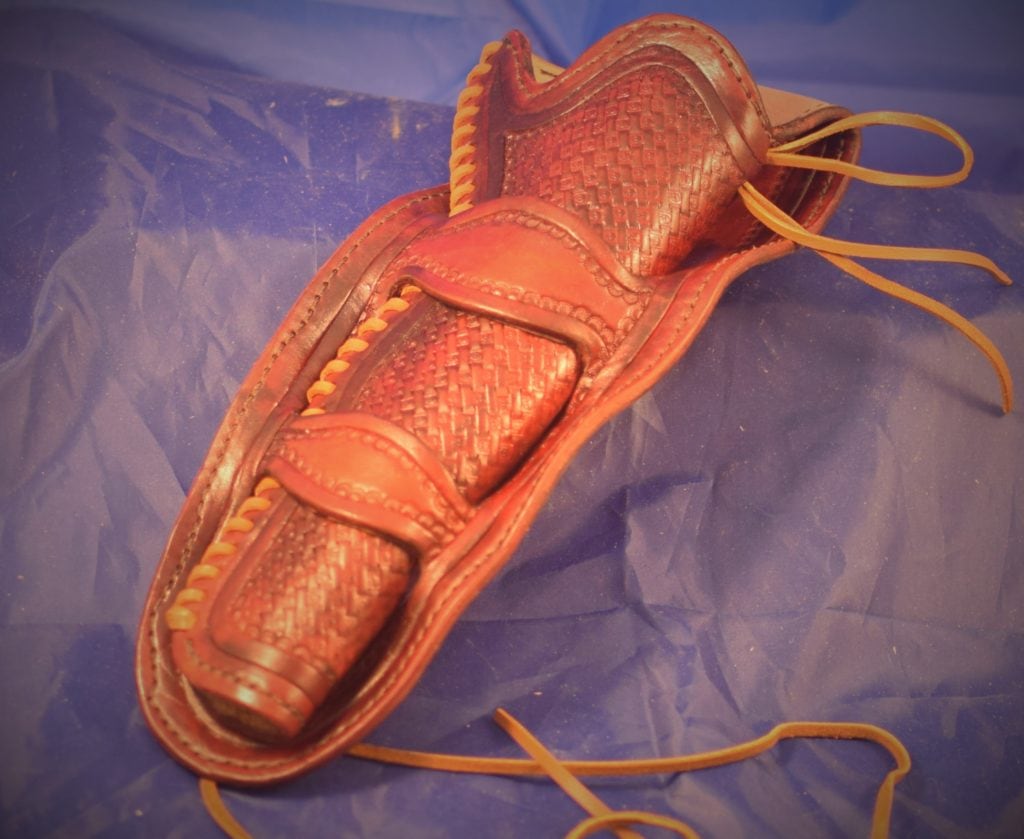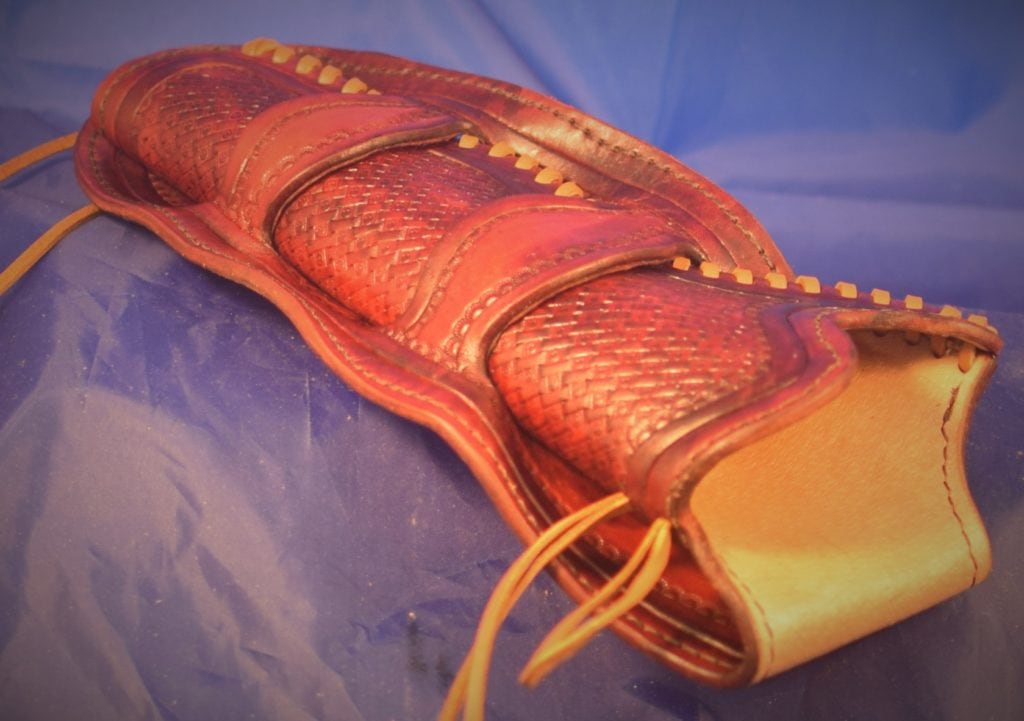 Western holster for 7 inch barrel. Skull basketweave pattern.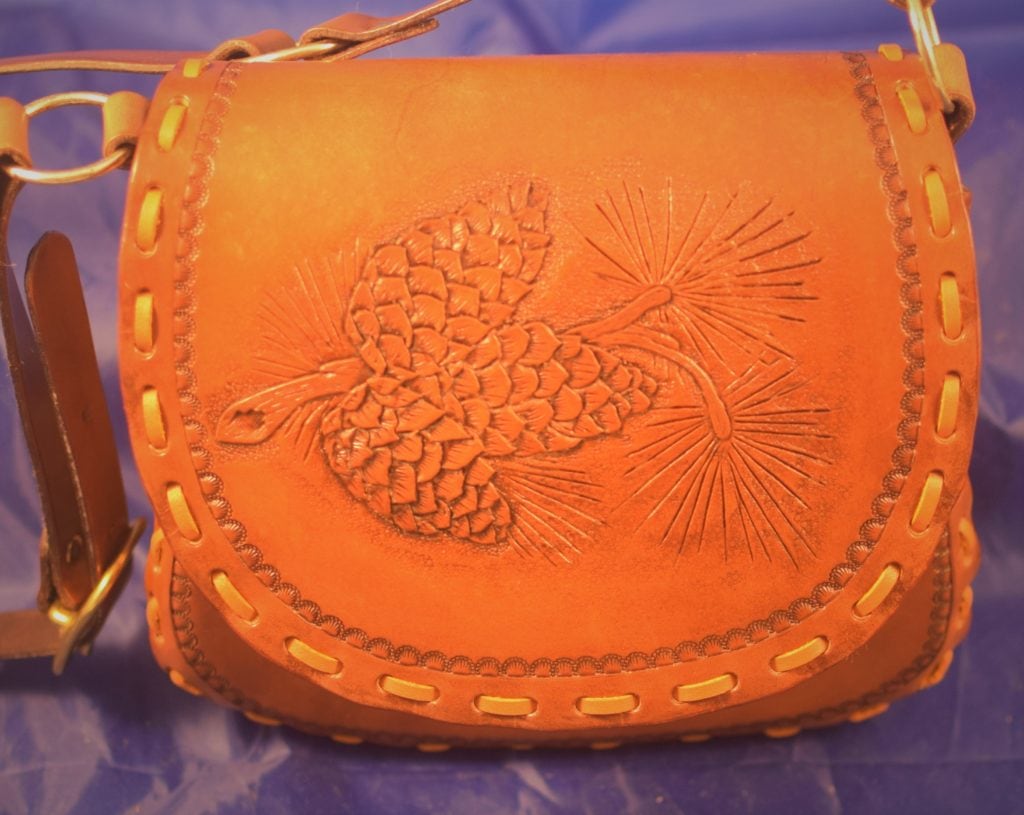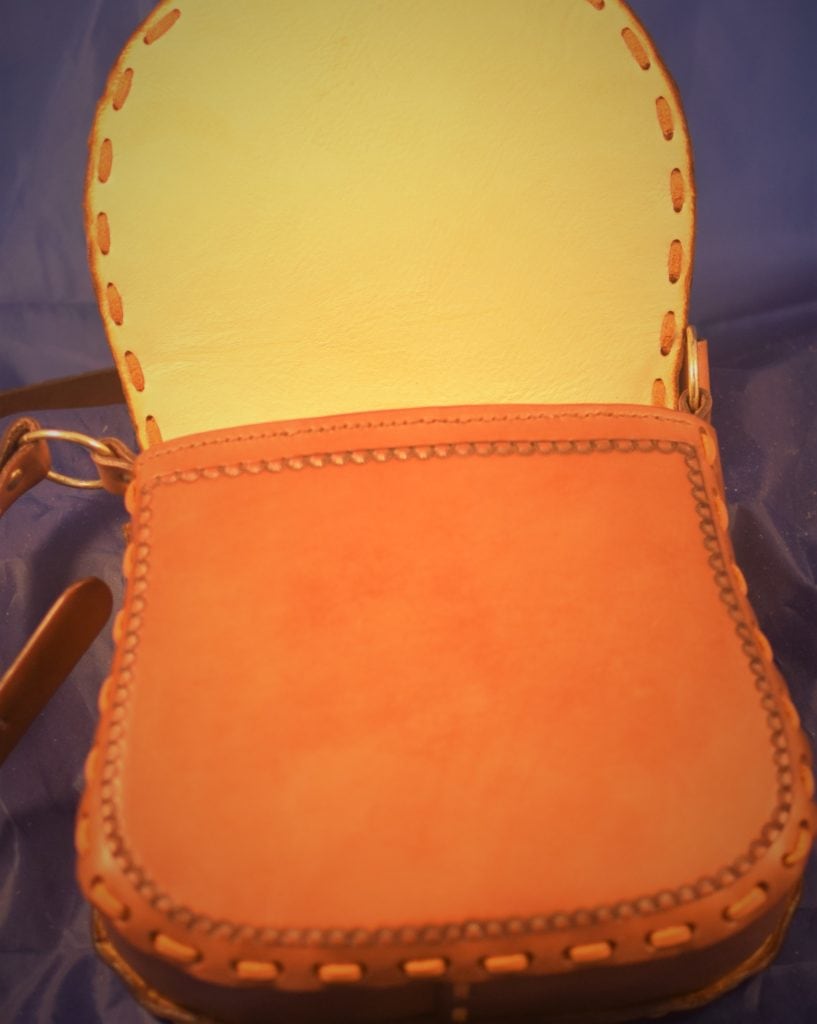 Medium sized shoulder bag/purse. Pinecones with border stamp decoration; latigo lace and buckskin lining.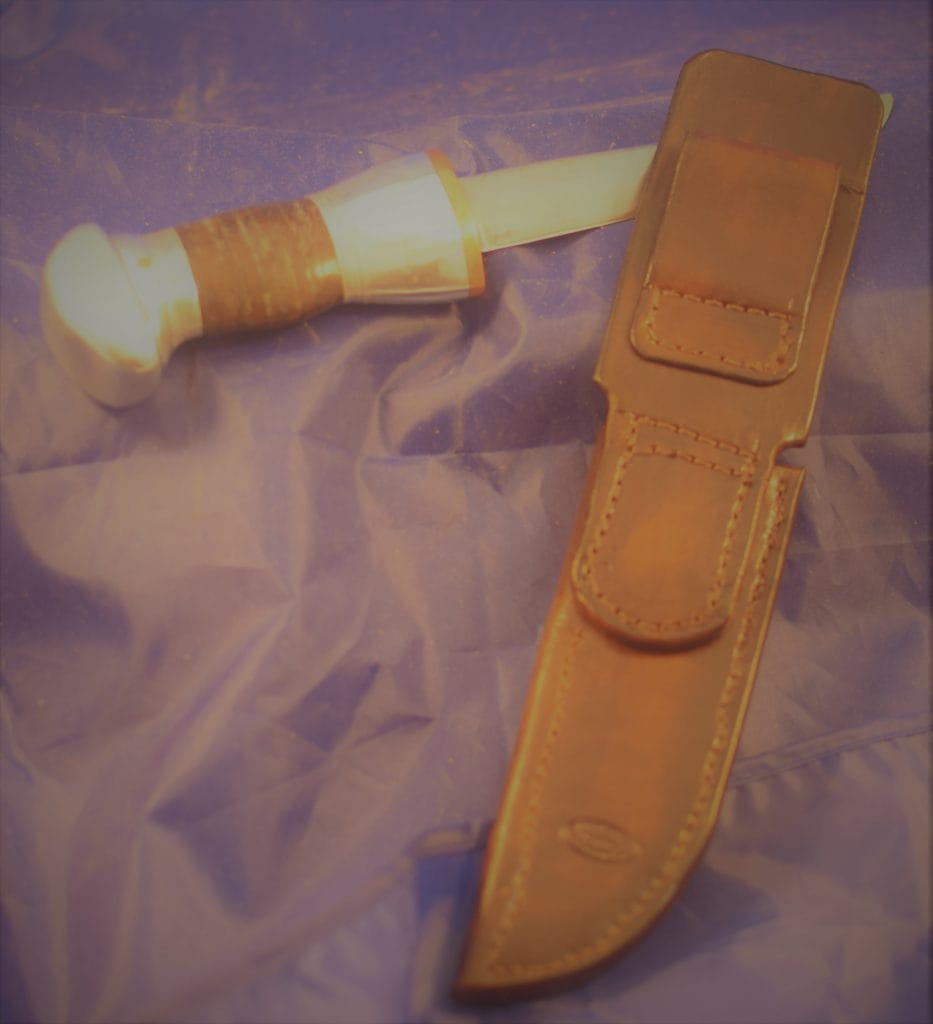 A no name knife with 5.5″ blade and an interesting handle.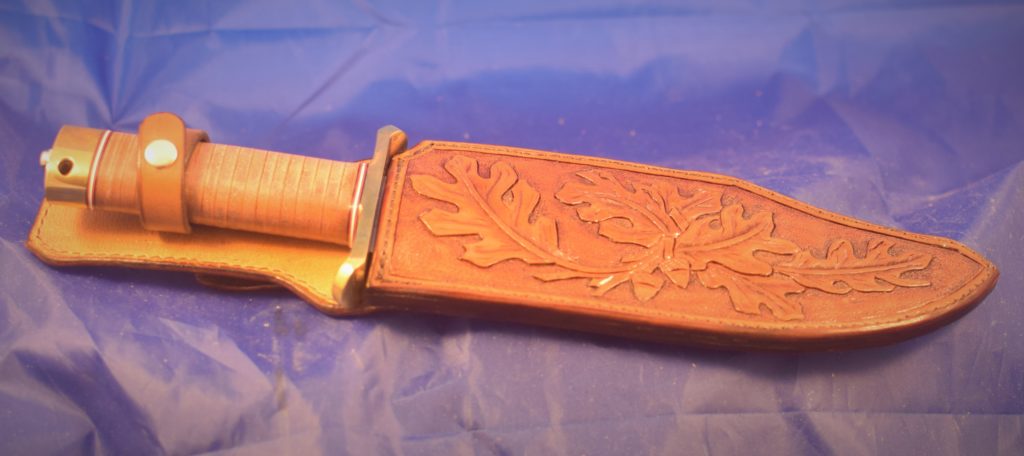 A Bark River Bowie knife with a 9.5″ blade and sheath with tooled oak leaves.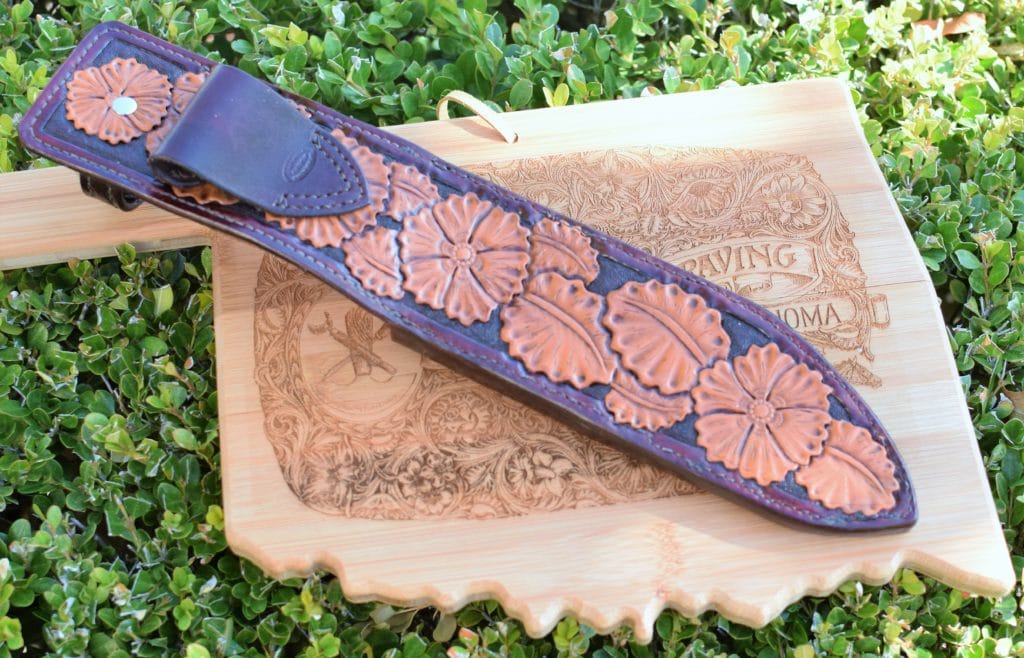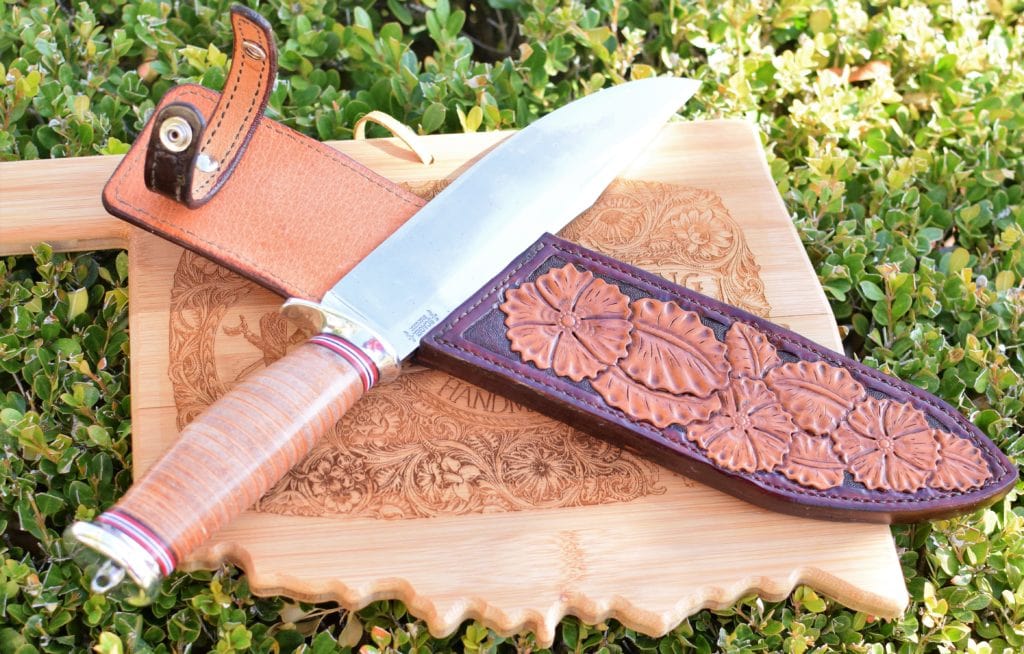 A Scagel Bowie Knife with a 6.5″ blade, tooled flowers and leaves.


A Bark River Bowie knife with a 10.5″ blade. Sheath with pine cones and kangaroo laced edges.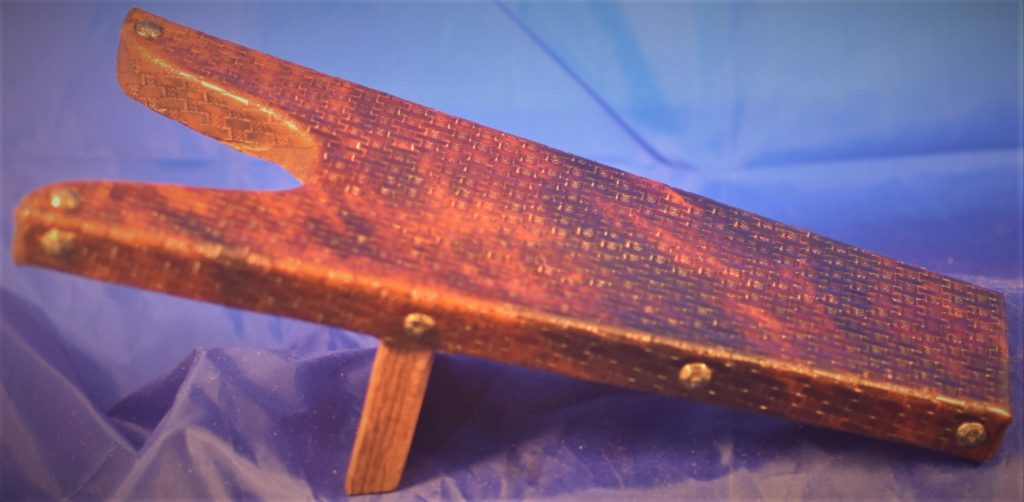 Another boot jack,russet with basket weave stamping.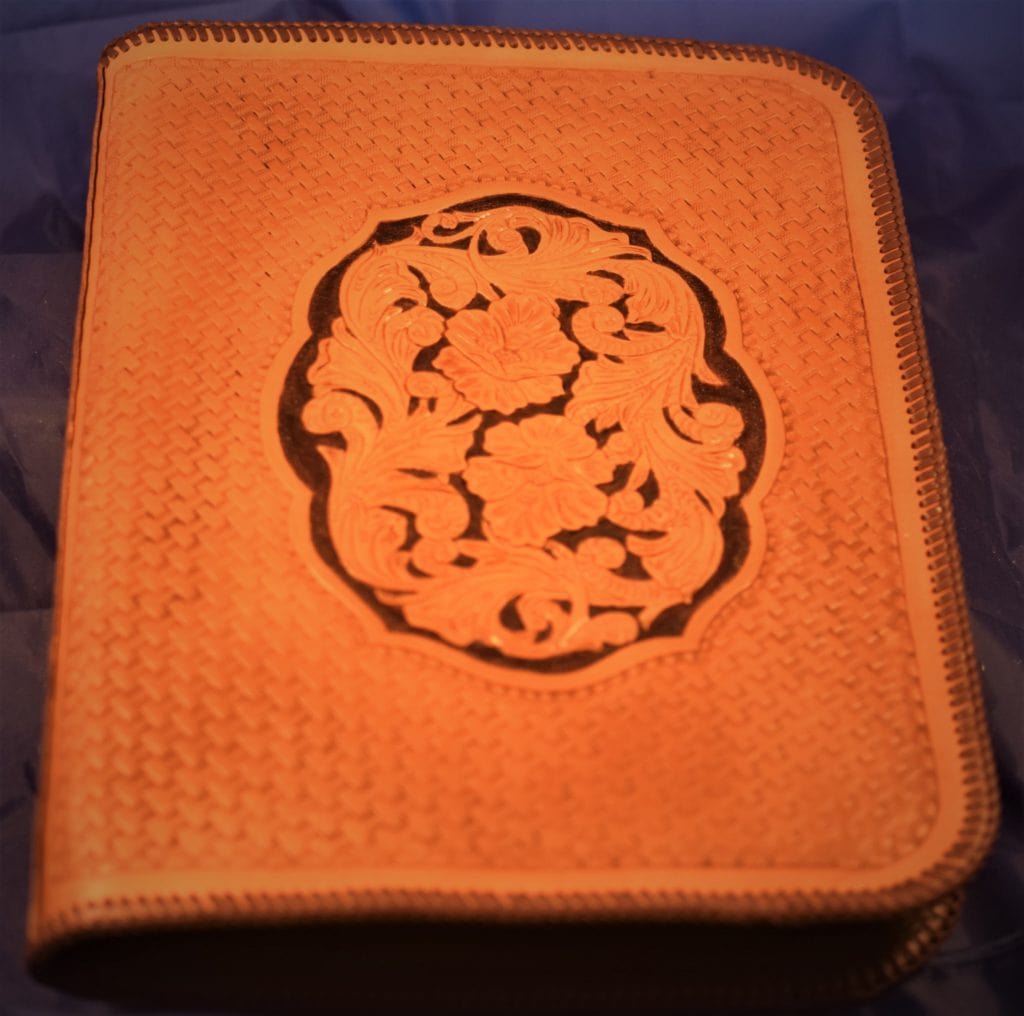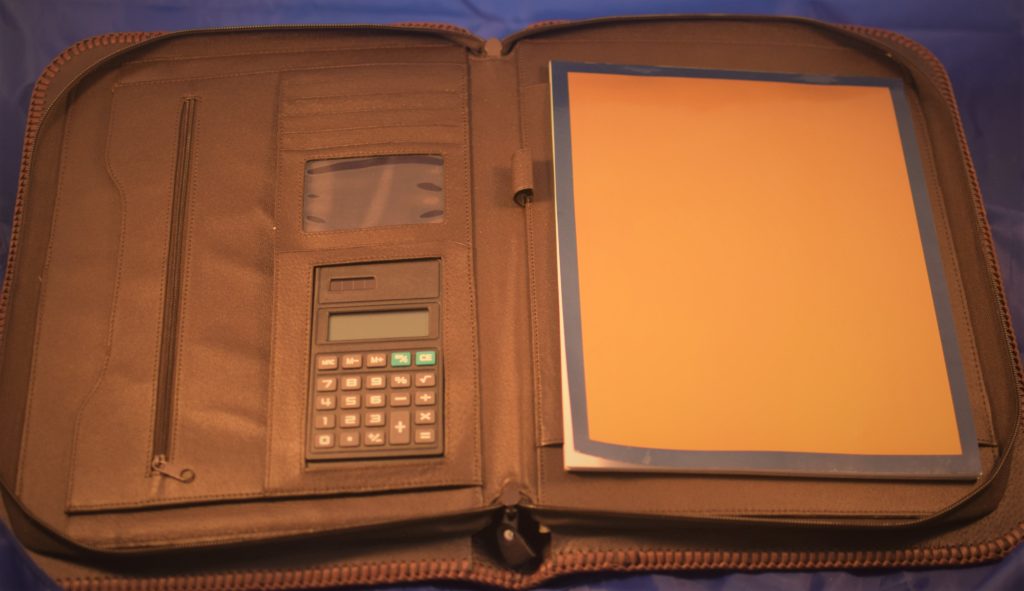 Leather portfolio with floral panel and basket weave stamping. Kangaroo lacing around the edges. Interior will hold a pad of paper, pen, business cards and still have other pockets, one zippered.