Dream-Catchers and Dream-Makers
Dream catchers are a Native American tradition. I've found two verisons of the basic idea. First is that the webbing within the circle will capture and keep your good dreams, and your nightmares will escape through the hole in the middle. Second is that both good and bad dreams get caught in the webbing, but the good dreams know how to work their way down the feathers and find their way to you; the nightmares stay trapped in the webbing.
As you'll see below, I make the traditional dream catchers. In addition, I make modified versions combining tooled leather with the basic structure and construction of a dream catcher. These are what I refer to as "dream makers."
The basic structure is a metal hoop that is wrapped in leather, typically a suede lace; sinew is then used to make the web. Typical decorations include beads (stone, wood and plastic are possibilities) and feathers.
Both dream catchers and dream makers can be made in different sizes, ranging from 3.25 inches in diameter up to 14 inches in diameter. Numerous colors are available. The smaller versions are ideal to hang off a car's rearview mirror.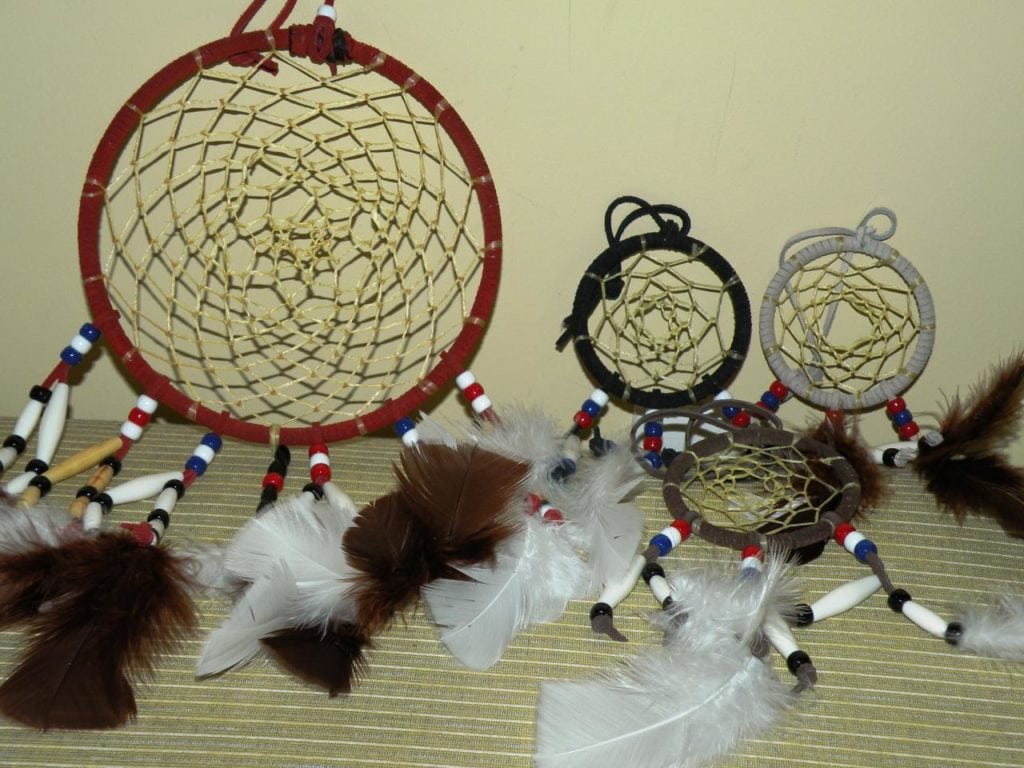 DREAM CATCHERS
Typical dream catchers in different sizes.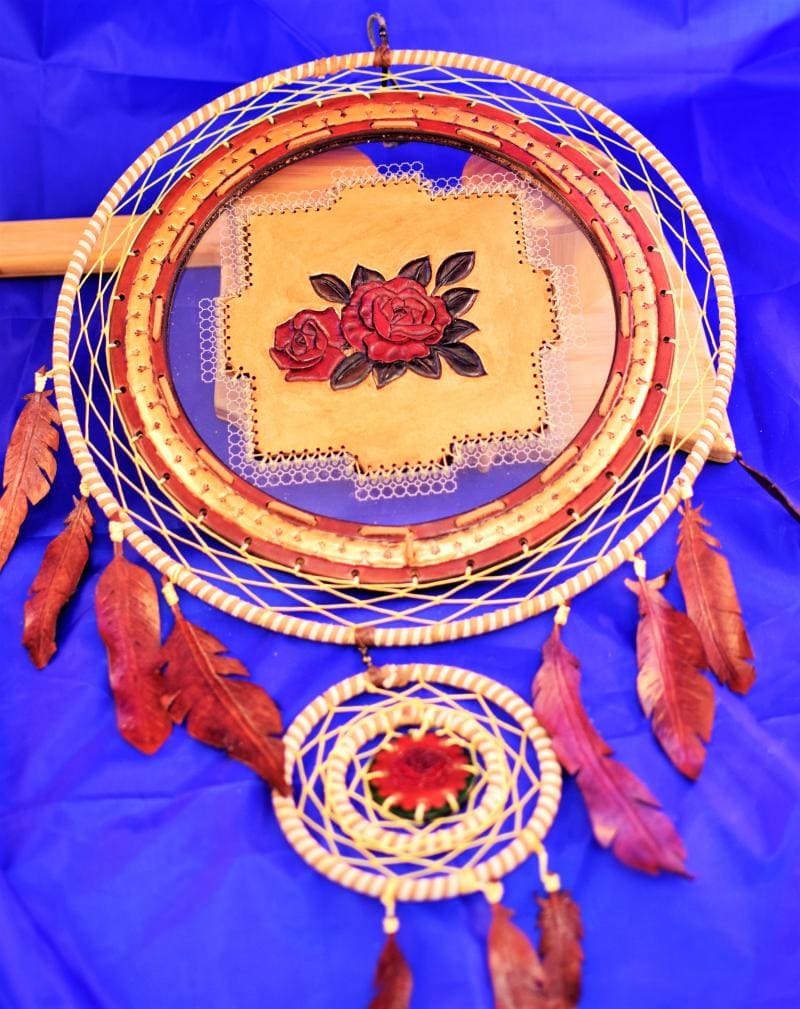 THE TWIRLING ROSES
This "dreammaker" is tooled on each side and will spin at the top and between the large and small rings. The leather feathers complete the item.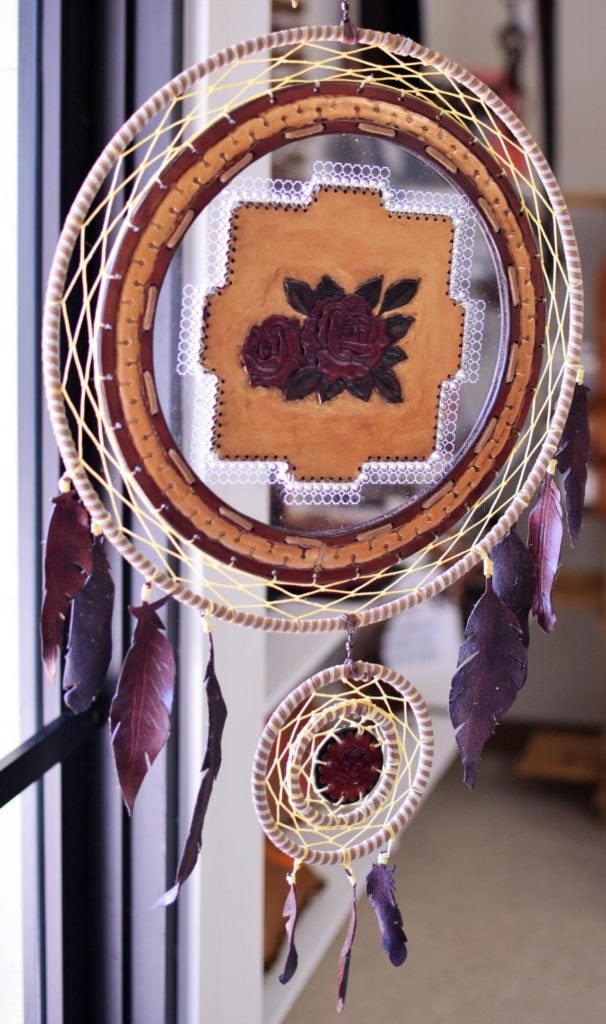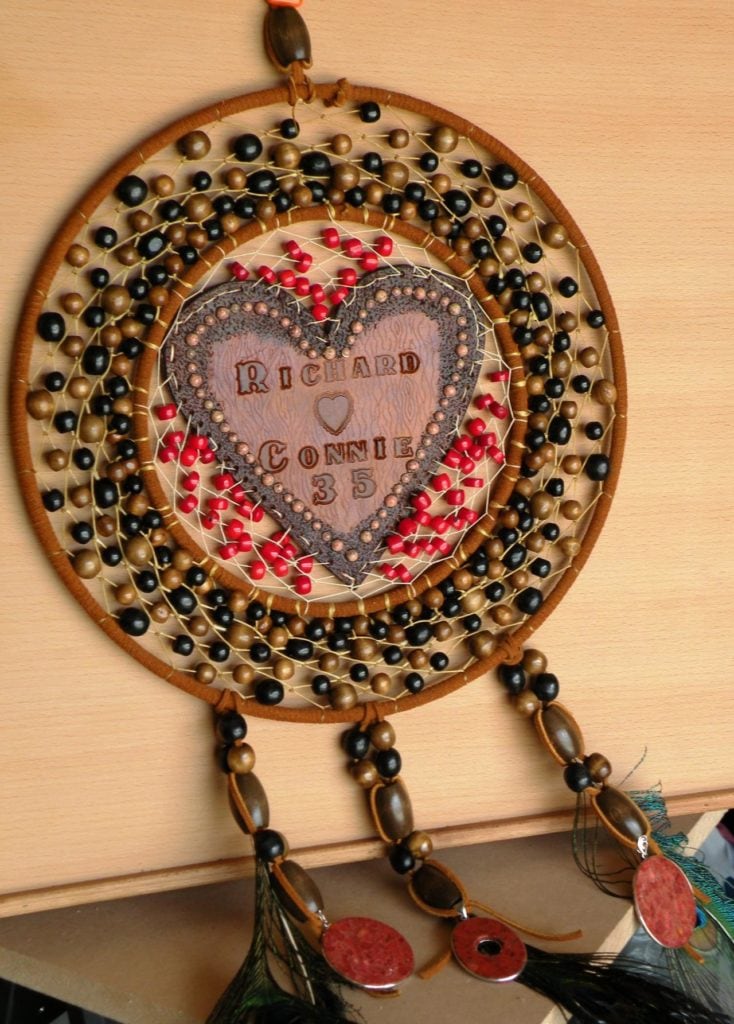 A SPECIAL ANNIVERSARY GIFT
A 35th Wedding Anniversary…a special time deserving a special gift…a true dream maker. Combining leather carving (the center heart) with the embedded dream catcher idea, this piece simulates the classic declaration of love carved into a tree laced into two rings. The fact of the 35th anniversary is conveyed not only in the inscription, but also with the use of coral rondels and pendants (the stone for a 35th anniversary). Wooden beads and peacock feathers complete the decorative touches to this special piece.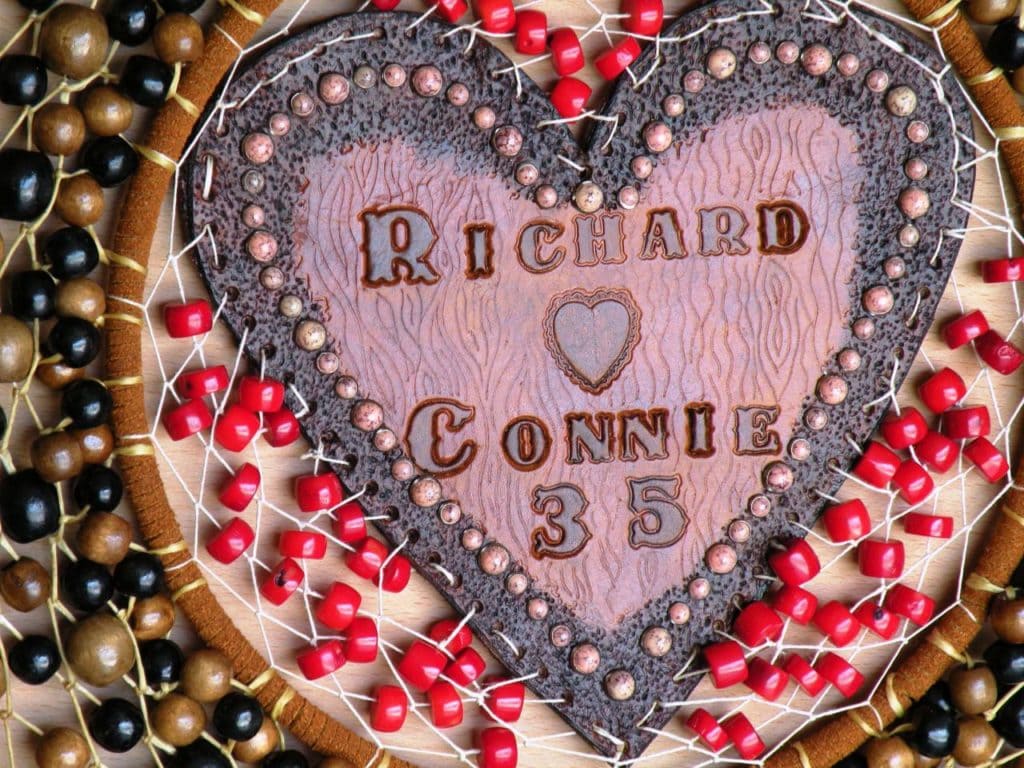 EMBEDDED DREAM CATCHERS
This is a fun exercise combining five dream catchers into one structure.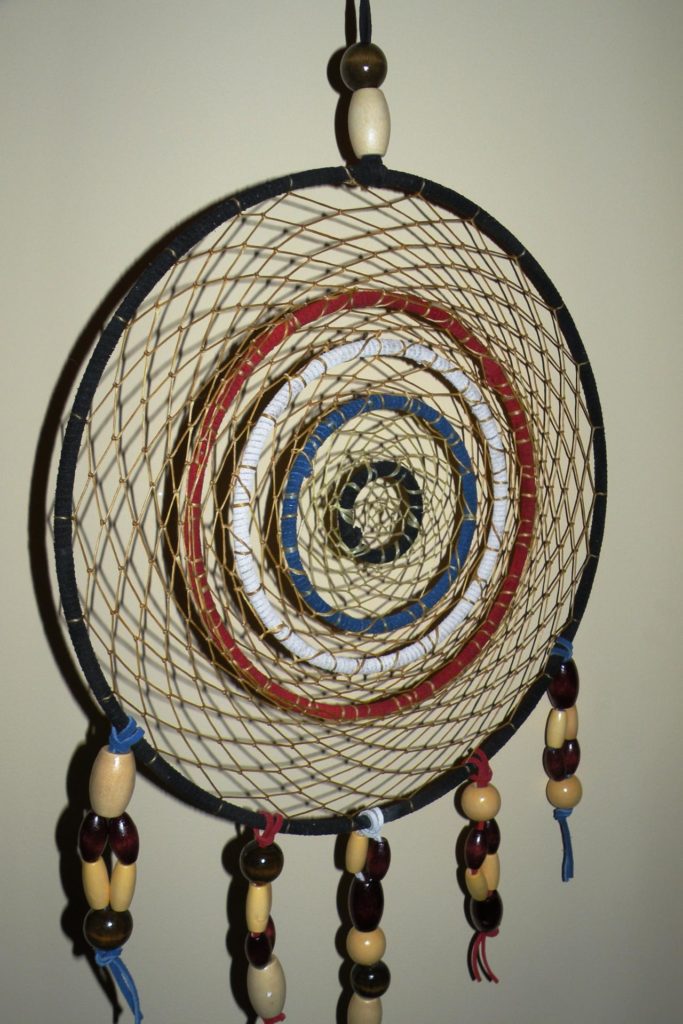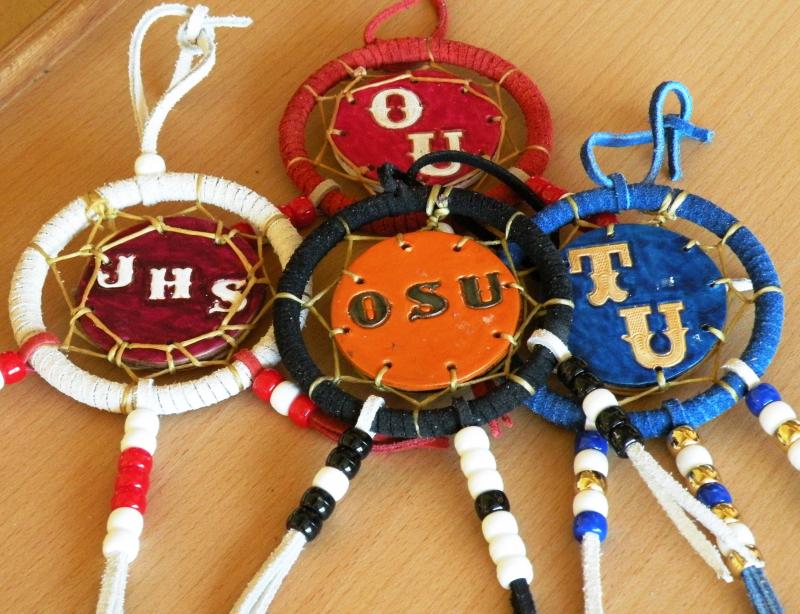 SCHOOL DREAM MAKERS

As the Beach Boys' song goes… "Be True to Your School"! Ideal for hanging in your car to show support for your favorite schools. These represent the big three in Oklahoma…The University of Oklahoma, Oklahoma State University, and Tulsa University. Also my high school alma mater…Jenks High School.
These can be made for any school, combining the school colors with their initials.
Cost is $10.00 each for this size. Larger sizes are available…just ask for details!
HOLIDAY DREAM CATCHERS
Who says holiday decorations have to be boring or made out of traditional materials. This door hanging is an example of a unique handcrafted Halloween decoration.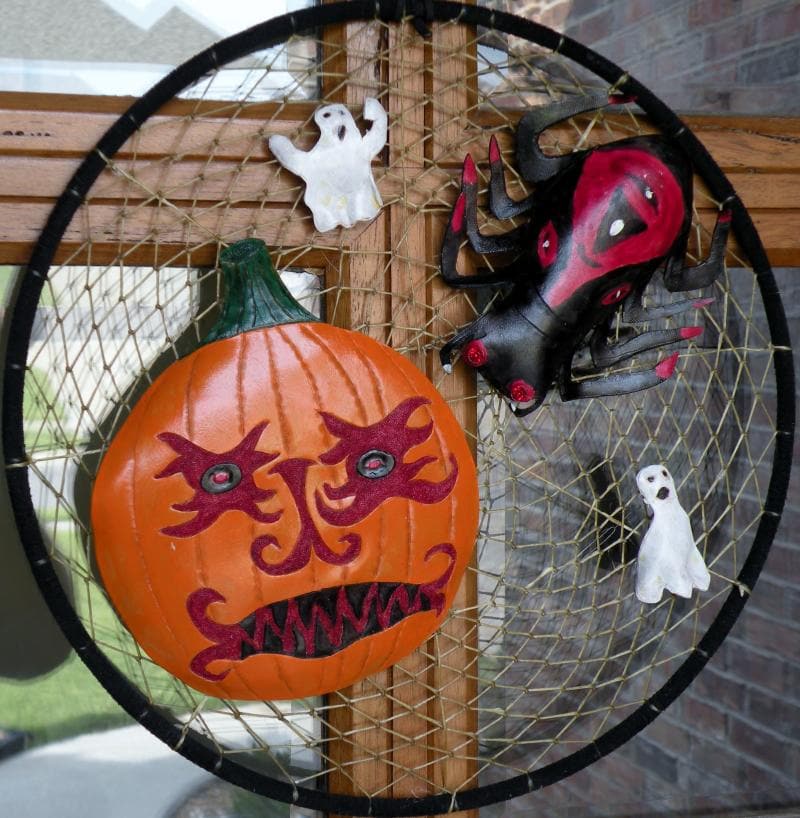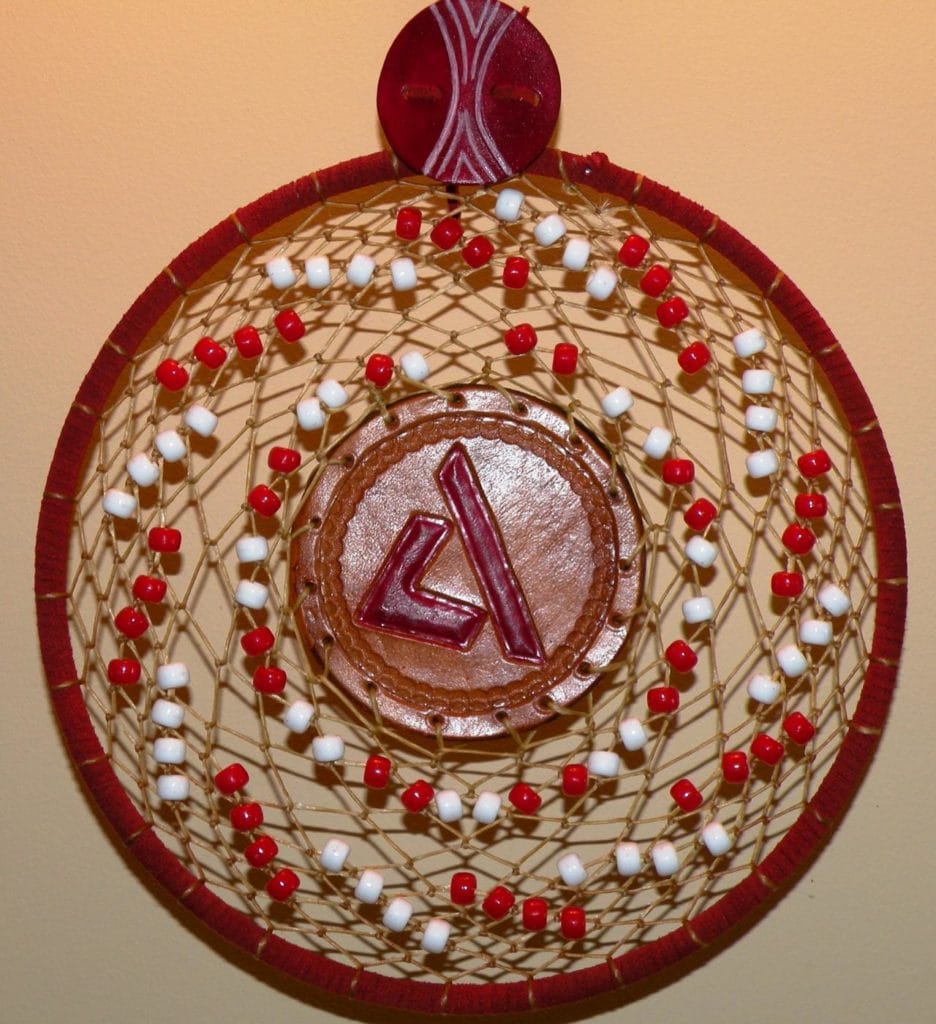 AMERICAN DIABETES ASSOCIATION DREAM MAKER
An example of a dream maker placing the logo of the American Diabetes Association within a dream catcher and accenting it with beads.
A great promotion piece for your business or organization!
This is a 3.5 inch leather disk within a 9 inch hoop.
NATURE PICTURES
Another example of embedding dream makers, this time using nature themes for the leather pictures.