LASER ENGRAVED CHARGE BOOK
Another option is to go with a laser engraved Charge Book, or an engraved Charge Book with a tooled border as shown below. These have to be done in three sections (to be able to fit the leather in the laser), but it is still possible to have a flap and strap closure arrangement. It is also restricted to a single color. This shows the three pieces sewn together.
This option is handy since it can be completed more quickly.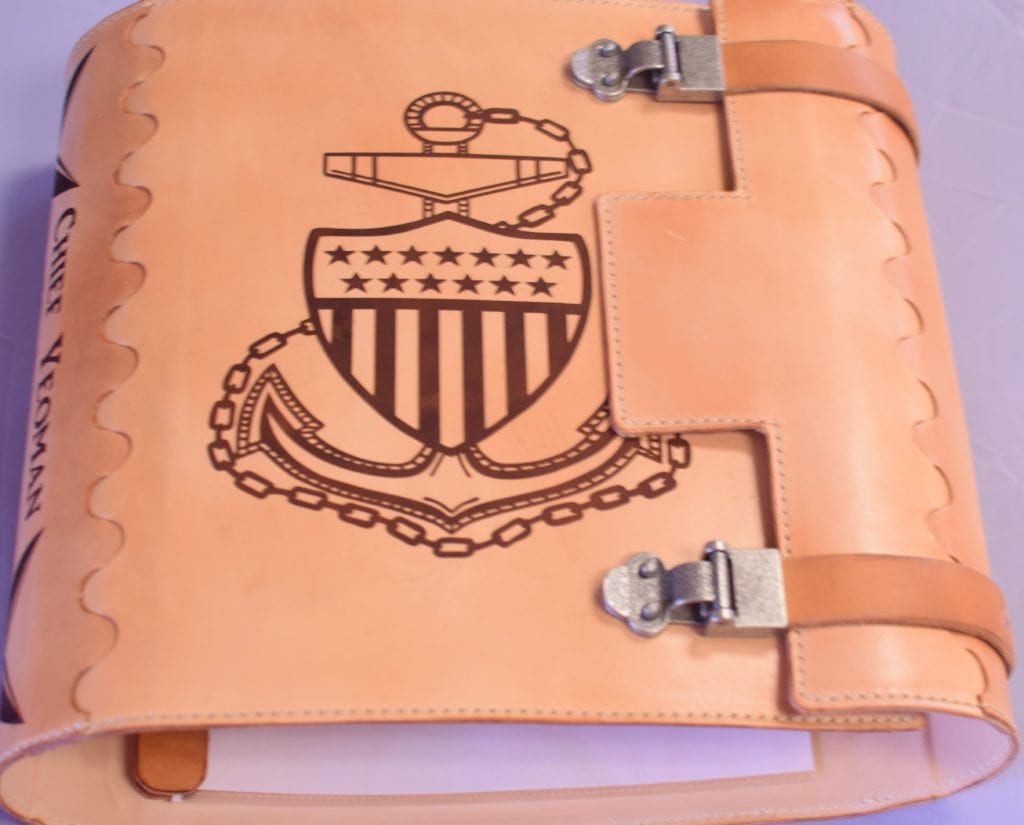 REQUIRED INFORMATION
To be able to give you a price quote, I need the following information:
1) How much material do you want the book to hold? (4″ is frequently chosen)
2) What lining do you want, pigskin or deer-tanned cowhide? (pigskin is slightly less expensive, but the deer-tanned cowhide is softer and gives a lusher feel)
3)  Style:
     a) Closure Flap with Straps? Strap(s) only? Belt with Sam Brown Button?  
     b) How many Straps/Belts? What closure mechanism do you want to use? The hook and latch mechanisms shown in the pictures have been discontinued. Read about your options here.
4) Do you want the edges sewn or laced?
5) Full Color Treatment or a single color?  What color(s)?
6) Add Coast Guard Conchos or Rosettes? which and how many?
7) What design/tooling do you want on your Charge Book?
8) Anything else you think I should know.
Some of our Coast Guard Chief's Charge Book Past Projects: